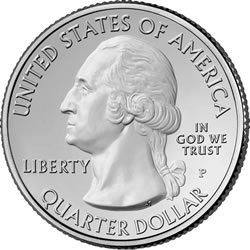 The United States Mint will unveil the five 2010 America the Beautiful Quarters on March 24, 2010 at the Newseum Museum in Washington, DC.
The final designs will provide a first look at the new coin series, named the America the Beautiful Quarters Program, which will feature 56 new emblematic National Park or National Site themes on the reverse side of quarter-dollars through to 2021.
The America's Beautiful National Parks Quarter Dollar Coin Act of 2008 (Public Law 110-456) authorized the 11-year program with selected sites honored in each state, the District of Columbia and the five U.S. territories. The first five coins in the program commemorate:
Hot Springs National Park in Arkansas,
Yellowstone National Park in Wyoming,
Yosemite National Park in California,
Grand Canyon National Park in Arizona, and
Mount Hood National Forest in Oregon.
The U.S. Mint revealed the 2010 candidate designs last year, with line art images of 19 proposals presented — three for Yellowstone, and four each for Hot Spring, Yosemite, Grand Canyon and Mt. Hood. The designs passed through the United States Commission of Fine Arts (CFA) and the Citizens Coinage Advisory Committee (CCAC) review and recommendation stages in September 2009.
These bodies provide the most public aspect of the quarter design selection process. Behind the scenes the Secretary of the Interior and the chief executive of each site location also offer their insights. U.S. Mint Director Ed Moy presents his recommendations to Treasury Secretary Timothy Geithner who makes the final design selection for each coin.
Mr. Geithner's chosen designs for the 2010 quarters will be unveiled Wednesday, March 24 at 12:00 p.m. EST. Featured speakers at the event will include:
United States Mint Director Ed Moy
United States Treasurer, Rosie Rios
Secretary of the Interior, Ken Salazar
Writer and co-producer of The National Parks: America's Best Idea, Dayton Duncan
The Newseum, which is promoted as DC's most interactive museum, is located:
Newseum (in the Knight Broadcast Studio)
55 Pennsylvania Ave., NW
Washington, DC 20001
Those interested in attending are asked to enter through the C Street entrance.
The US Mint is releasing Hot Springs National Park quarter rolls on April 19, 2010. The coins will enter general circulation on the same day.
The Mint has already presented the design proposals for next year's 2011 American the Beautiful Quarters, which honor:
Gettysburg National Military Park in Pennsylvania,
Glacier National Park Quarter in Montana,
Olympic National Park in Washington,
Vicksburg National Military Park in Mississippi, and
Chickasaw National Recreation Area in Oklahoma.
The final selections for these coin designs will likely be unveiled in late December or January. The lateness in revealing this year's quarters is the result of a short time frame between the coin legislation getting enacted into law and their release.