Today, the United States Mint honors America's first major prima ballerina with the release of rolls and bags of 2023 Maria Tallchief quarters.
| | |
| --- | --- |
| U.S. Mint image of a 2023 Maria Tallchief quarter and P, D, and S rolls of them | U.S. Mint image of a 2023-P Maria Tallchief quarter and a 100-coin bag of them |
The quarter, which celebrates Tallchief's impact both on and off the stage, is the last of the five strikes of the year from the U.S. Mint's American Women Quarters™ series. The program debuted last year and features five unique designs annually with a run of four years.
Maria Tallchief was born on January 24, 1925, and showed incredible promise as a dancer at a very young age. Her family moved to Los Angeles to pursue her dancing career when she was just eight years old. She eventually moved to New York and became the New York City Ballet's first star in 1946. Within just a few years, she established herself as a prima ballerina and revolutionized the industry with her passion.
Maria Tallchief Quarter Products
There are three different products available that contain the new 2023 Maria Tallchief quarter dollars. They include coins struck at three distinct U.S. Mint facilities: the Philadelphia Mint, the Denver Mint, and the San Francisco Mint. The options include:
Two-Roll Sets for $40 – containing one roll of 40 quarters from the Philadelphia Mint and one roll of 40 quarters from the Denver Mint
Three-Roll Sets for $60 – containing three 40 quarter rolls, with one from the Philadelphia Mint, one from the Denver Mint and one from the San Francisco Mint
100-Coin Bags for $45 – 100 quarters from either the Philadelphia or Denver Mint
The Philadelphia and Denver Mints strike the circulating coinage of the nation, so Tallchief quarters from these facilities will eventually end up in pocket change, as they also started entering circulation today. Quarters struck at the San Francisco Mint, however, are produced solely for numismatic purposes, such as for the three-set rolls, making them more desirable to collectors.
Maria Tallchief Quarter Designs
Maria Tallchief is depicted in a balletic pose on the reverse (tails side) of each new quarter. Inscriptions on the design read: "UNITED STATES OF AMERICA," "E PLURIBUS UNUM," "QUARTER DOLLAR," and "MARIA TALLCHIEF." Underneath her English name, we find Tallchief's Osage name, which translates to "Two Standards," written in Osage orthography.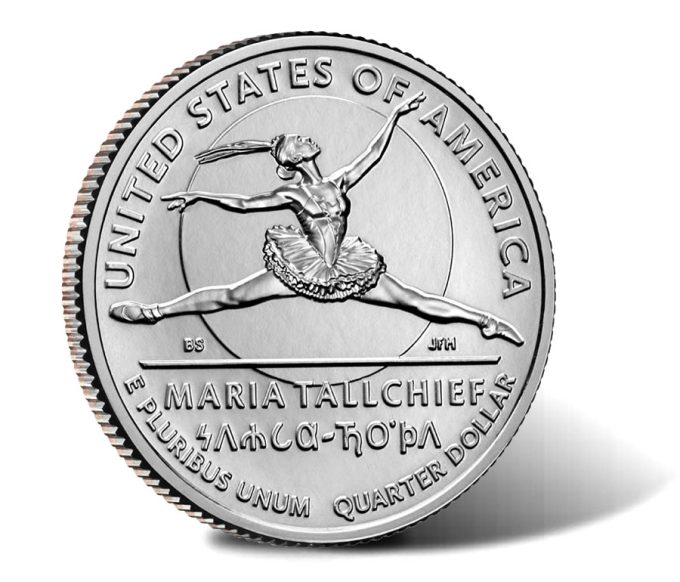 The artwork was completed by U.S. Mint Artistic Infusion Program Designer Ben Sowards, with the sculpting done by United States Mint Chief Engraver Joseph Menna.
A common obverse design appears on all issues of the American Women Quarters Program. It is the work of Laura Gardin Fraser and depicts a portrait of George Washington. The likeness of the first U.S. President was originally created to mark George Washington's 200th birthday and was a candidate to appear on the 1932 circulating quarter dollar.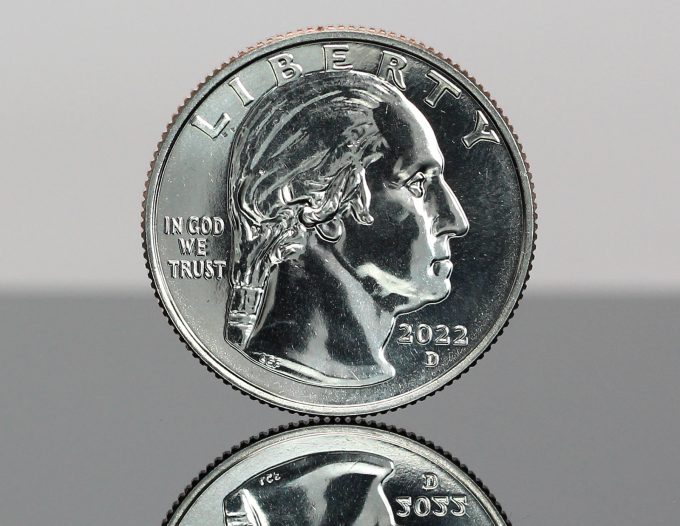 Obverse inscriptions are "LIBERTY," "IN GOD WE TRUST," and "2023."
Quarter Specifications
Denomination:
Quarter
Finish:
Uncirculated
Composition:
8.33% nickel, balance copper
Weight:
5.670 grams
Diameter:
0.955 inch (24.26 mm)
Edge:
Reeded
Mint and Mint Mark:
Philadelphia – P
Denver – D
San Francisco – S
Privy Mark:
None
Ordering
Maria Tallchief quarters may be ordered by visiting the U.S. Mint's online catalog quarter products.
Like previous program releases, the two-roll sets have a product limit of 9,140 with an initial household order limit of three. Three-roll set sales are limited to 12,620, also with an initial household order limit of three. Bag options have a product limit of 7,860 with initial household order limits of ten.
U.S. Mint's Women Quarters Program
Congress authorized the American Women Quarters Program with Public Law 116-330. As mentioned, the series debuted in 2022 with designs honoring Maya Angelou, Dr. Sally Ride, Wilma Mankiller, Nina Otero-Warren, and Anna May Wong.
2023 American Women quarters include:
Bessie Coleman – first African American and first Native American woman licensed pilot (issued February 14th)
Edith Kanakaʻole – influential Hawaiian composer and custodian of native culture and traditions (debuted March 27th)
Eleanor Roosevelt – first lady, author, and civil liberties advocate (released June 5)
Jovita Idar – Mexican-American journalist, activist, teacher, and suffragist (issued August 15th)
Maria Tallchief – America's first prima ballerina (this release)
In addition to bags and rolls, the American Women Quarters also appear in various other U.S. Mint products, including annual sets like the proof quarters (released March 21) and silver quarters (released April 4), as well as the 2023 American Women Ornament Collection.