Roll and bags of the newest coin from the United States Mint's four-year series of American Women Quarters™ are available today at noon EST with the release of 2023 Bessie Coleman quarters.
| | |
| --- | --- |
| U.S. Mint image of a 2022 Bessie Coleman quarter and P, D, and S rolls of them | U.S. Mint image of a 2022-P Bessie Coleman quarter and a 100-coin bag of them |
Each option contains quarters in uncirculated quality with a reverse (tails side) design honoring the first African American and first Native American woman pilot. Coleman also has the distinction of being the first African American to earn an international pilot's license.
Made for collectors, specially burnished blanks are used for these quarters which are hand-loaded into coining presses resulting in a strike with a brilliant finish. Products for the release include:
Two-Roll Sets for $40 – containing 40 quarters produced at the Philadelphia Mint and 40 quarters produced at the Denver Mint
Three-Roll Sets for $60 – containing 40 quarters from Philadelphia Mint, 40 from the Denver Mint and 40 from the San Francisco Mint
100-Coin Bags for $45 – buyers have the choice of 100 coins from either the Philadelphia or Denver Mint
As for the three-roll sets, the Mint stated:
"Because of overwhelming demand, much of the production of the three-roll sets is accounted for through subscription. Should any inventory become available, those products will be made available via the 'Remind Me' feature."
Regular circulating Bessie Coleman quarters started shipping Jan. 3 to Federal Reserve Banks and their coin terminals for distribution into circulation. As such, some may have already found their way into your pocket change. All circulating coins are produced in either Philadelphia or Denver.
Bessie Coleman Quarter Designs
The reverse of each new quarter offers an image of Bessie Coleman as she suits up in preparation for flight, with her gaze fixed on the skies. A plane appears off in the distance.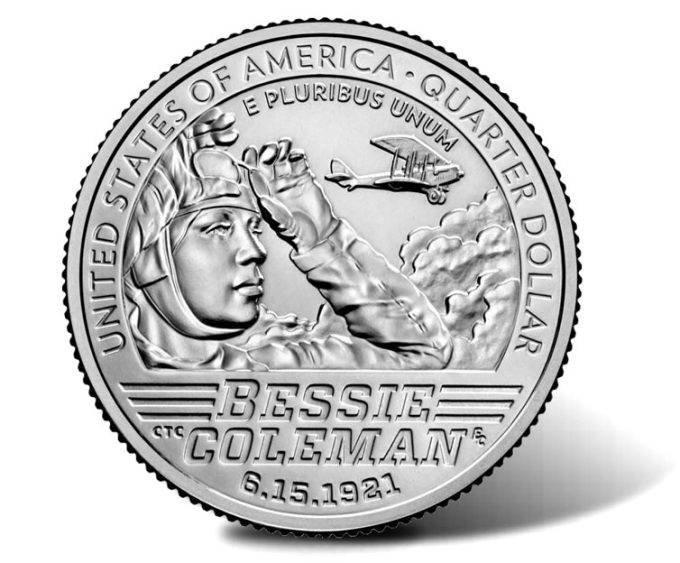 Inscriptions around the design include "UNITED STATES OF AMERICA," "QUARTER DOLLAR," "E PLURIBUS UNUM," "BESSIE COLEMAN" and "6.15.1921," the date Coleman received her pilot's license. This design was created by Artistic Infusion Program Designer Chris Costello with sculpting by United States Mint Medallic Artist Eric David Custer.
All coins in the series share the same obverse (heads side) likeness of George Washington. The portrait was originally created by artist Laura Gardin Fraser to mark Washington's 200th birthday in 1932.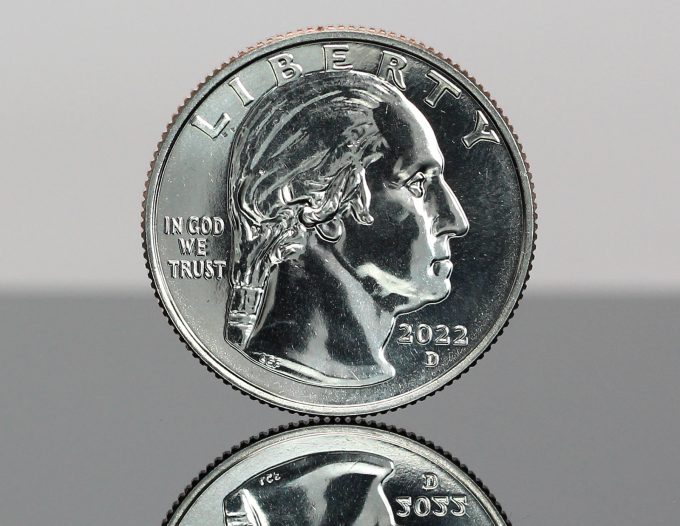 Obverse inscriptions read: "LIBERTY," "IN GOD WE TRUST" and "2023."
Quarter Specifications
Denomination:
Quarter
Finish:
Uncirculated
Composition:
8.33% nickel, balance copper
Weight:
5.670 grams
Diameter:
0.955 inch (24.26 mm)
Edge:
Reeded
Mint and Mint Mark:
Philadelphia – P
Denver – D
San Francisco – S
Privy Mark:
None
Ordering
Rolls and bags of Bessie Coleman quarters may be ordered directly from the U.S. Mint's online catalog quarter products.
Initial household order limits of three each of the two-roll and three-roll sets have been established along with a limit of 10 per bag option.
U.S. Mint's Women Quarters Program
Quarters of the series are authorized by Public Law 116-330 and will include a total of twenty issues over four years at a rate of five per year. Each celebrates the accomplishments and contributions made by women to the development and history of the United States. 2022 quarters honor Maya Angelou, Dr. Sally Ride, Wilma Mankiller, Nina Otero-Warren, and Anna May Wong.
In addition to Bessie Coleman, 2023 quarters celebrate:
Edith Kanaka'ole – indigenous Hawaiian composer, custodian of native culture and traditions
Eleanor Roosevelt – first lady, author, and civil liberties advocate
Jovita Idar – Mexican-American journalist, activist, teacher, and suffragist
Maria Tallchief – America's first prima ballerina
These coins will be released in intervals throughout the year. In addition, numismatic grade clad proof and silver proof sets will be issued by the U.S. Mint along with holiday ornaments.