Rolls and bags of the newest release from the United States Mint become available today at noon ET with the launch of the 2023 Jovita Idar quarter. The coin pays tribute to Idar, a Mexican-American journalist known for empowering Mexican-American women and advocating for quality education for children.
| | |
| --- | --- |
| U.S. Mint image of a 2023 Jovita Idar quarter and P, D, and S rolls of them | U.S. Mint image of a 2023-P Jovita Idar quarter and a 100-coin bag of them |
This quarter is the latest addition to the U.S. Mint's American Women Quarters™ series. The program started last year with a plan for five releases annually over four years. Each quarter honors an American woman who has made significant contributions to the history and development of the United States.
Jovita Idar was born on September 7, 1885 in Laredo, Texas. She grew up in a family with eight children, all of whom were raised discussing civil rights and political activism. In 1903, she earned her teaching certificate and started teaching. However, she resigned shortly thereafter due to the poor conditions to which her Mexican American students were exposed. She then turned to journalism, where she advocated for education, economic equality for Mexican Americans, and various other social issues of the time.
Jovita Idar Quarter Products
There are three different products available that contain the new 2023 Jovita Idar quarter dollars. They include coins struck at three distinct U.S. Mint facilities: the Philadelphia Mint, the Denver Mint, and the San Francisco Mint. The options include:
Two-Roll Sets for $40 – containing one roll of 40 quarters from the Philadelphia Mint and one roll of 40 quarters from the Denver Mint
Three-Roll Sets for $60 – containing three 40 quarter rolls, with one from the Philadelphia Mint, one from the Denver Mint and one from the San Francisco Mint
100-Coin Bags for $45 – 100 quarters from either the Philadelphia or Denver Mint
The quarters struck at the San Francisco Mint are most sought after by collectors since they are produced solely for numismatic purposes, leading to limited overall mintage. Jovita Idar quarters struck at the Philadelphia and Denver Mints will eventually make their way into your pocket change, as they started entering circulation on Monday, Aug. 14.
Jovita Idar Quarter Designs
A portrait of Jovita Idar with her hands clasped adorns the reverse (tails side) of each new coin.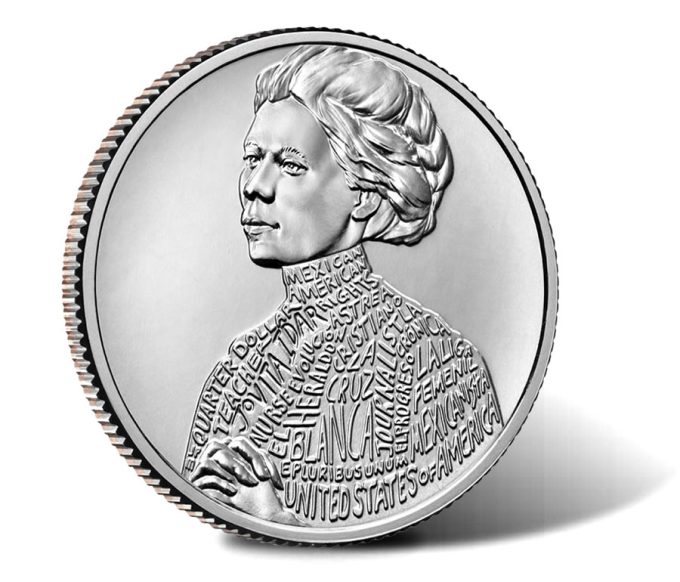 The inscriptions overlayed over her body represent her causes and her name, including:
"MEXICAN AMERICAN RIGHTS"
"TEACHER"
"JOVITA IDAR"
"NURSE"
"EVOLUCIÓN"
"ASTREA"
"EL HERALDO CRISTIANO"
"LA CRUZ BLANCA"
"JOURNALIST"
"LA CRÓNICA"
"EL PROGRESO"
"LA LIGA FEMENIL MEXICANISTA"
Additionally, legally required inscriptions appear, which include:
"QUARTER DOLLAR"
"E PLURIBUS UNUM"
"UNITED STATES OF AMERICA."
The image was designed and sculpted by U.S. Mint Medallic Artist John P. McGraw.
All quarters of the series contain the same obverse (heads side) portrait of George Washington. The likeness of the first President of the United States was originally created by artist Laura Gardin Fraser to mark Washington's 200th birthday in 1932.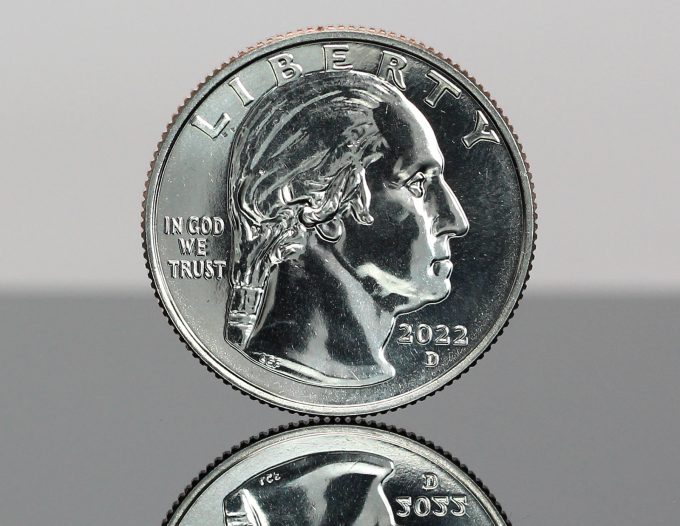 Obverse inscriptions read "LIBERTY," "IN GOD WE TRUST," and "2023."
Quarter Specifications
Denomination:
Quarter
Finish:
Uncirculated
Composition:
8.33% nickel, balance copper
Weight:
5.670 grams
Diameter:
0.955 inch (24.26 mm)
Edge:
Reeded
Mint and Mint Mark:
Philadelphia – P
Denver – D
San Francisco – S
Privy Mark:
None
Ordering
Jovita Idar quarters may be ordered by visiting the U.S. Mint's online catalog quarter products.
Two-roll sets have a product limit of 9,140 with an initial household order limit of three. Three-roll set sales are limited to 12,620, also with an initial household order limit of three. Bag options have a product limit of 7,860 with initial household order limits of ten.
U.S. Mint's Women Quarters Program
Public Law 116-330 authorized the American Women Quarters Program. Strikes of the series debuted in 2022 with designs honoring Maya Angelou, Dr. Sally Ride, Wilma Mankiller, Nina Otero-Warren, and Anna May Wong. 2023 quarters include:
Bessie Coleman – first African American and first Native American woman licensed pilot (issued February 14th)
Edith Kanakaʻole – influential Hawaiian composer and custodian of native culture and traditions (debuted March 27th)
Eleanor Roosevelt – first lady, author, and civil liberties advocate (released June 5)
Jovita Idar – Mexican-American journalist, activist, teacher, and suffragist (this release)
Maria Tallchief – America's first prima ballerina (October 23rd)
These quarters can also be found in additional U.S. Mint products, such as annual sets containing proof quarters (released March 21) and silver quarters (released April 4). They will also be featured in special holiday ornaments, scheduled for release on Aug. 24.