One of the most influential individuals of the 20th century in America is being celebrated by the United States Mint with today's noon ET release of their 2023 Eleanor Roosevelt quarter. The new quarter dollar is available in rolls and bags containing coins struck at U.S. Mint facilities in Philadelphia, Denver, and San Francisco.
| | |
| --- | --- |
| U.S. Mint image of a 2023 Eleanor Roosevelt quarter and P, D, and S rolls of them | U.S. Mint image of a 2023-P Eleanor Roosevelt quarter and a 100-coin bag of them |
The quarter is the latest addition to the U.S. Mint's ongoing American Women Quarters™ series. This four-year program, which began in 2022, aims to recognize the remarkable contributions of women to American history, with five new designs being released each year until 2025.
Eleanor Roosevelt's legacy extends beyond her role as the wife of the 32nd President of the United States, Franklin D. Roosevelt, throughout his unprecedented four terms in office. Even before her time in the White House, she was widely recognized by the public for her extensive involvement in civic affairs, including her dedicated work towards human rights and her association with organizations such as the League of Women Voters and the Women's Trade Union League.
"The third coin of the 2023 American Women Quarters Program honors the life and legacy of Eleanor Roosevelt," said Mint Director Ventris C. Gibson. "She was the first chairperson of the Commission on Human Rights, advocating diligently for the civil liberties and needs of the poor, minorities, and the disadvantaged."
It was during her tenure as the First Lady that Eleanor Roosevelt's national influence soared to new heights, making her the most politically active First Lady in history. While supporting her husband's presidency, she pursued her progressive agenda and extensively traveled the nation, providing firsthand reports on the prevailing conditions to aid her husband's decision-making process.
Eleanor Roosevelt Quarter Products
Three different options are available as part of the Roosevelt quarter release. These include:
Two-Roll Sets for $40 – containing one roll of 40 quarters from the Philadelphia Mint and one roll of 40 quarters from the Denver Mint
Three-Roll Sets for $60 – containing three 40 quarter rolls, with one from the Philadelphia Mint, one from the Denver Mint and one from the San Francisco Mint
100-Coin Bags for $45 – 100 quarters from either the Philadelphia or Denver Mint
The San Francisco Mint-struck quarters are the most sought after by collectors, as they are produced only for numismatic purposes, limiting their overall mintage. Quarters struck at the Philadelphia and Denver Mints are also released for general circulation, starting today, which will result in millions of them being issued.
Eleanor Roosevelt Quarter Designs
A portrait of Eleanor Roosevelt and the scales of justice against a backdrop representing the globe can be found on the reverse (tails side) of each new quarter dollar.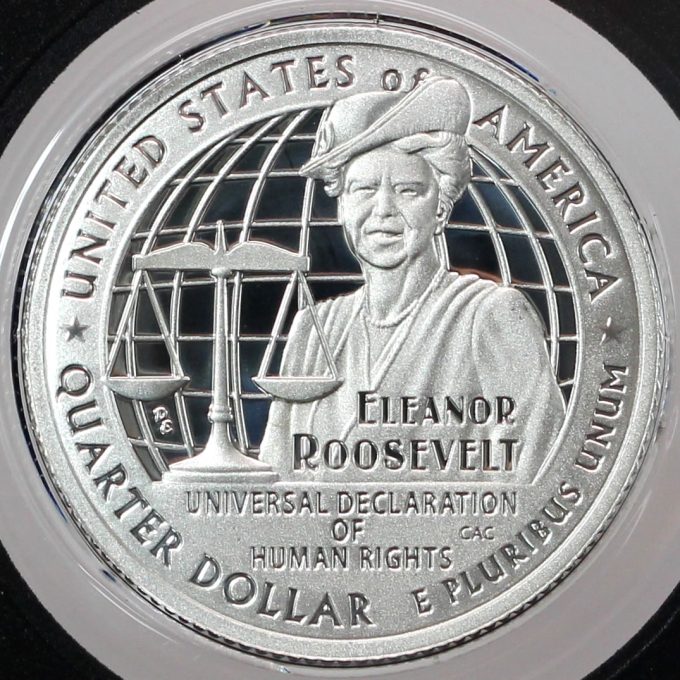 The design is meant to symbolize her impactful work with the Universal Declaration of Human Rights. The image was created by U.S. Mint Artistic Infusion Program Designer Don Everhart, with sculpting by United States Mint Medallic Artist Craig A. Campbell.
"It was an incredible honor to be trusted with sculpting this tribute to an American icon," said Campbell. "Eleanor Roosevelt had such an amazing impact on our country and the world, and in this design, we see Mrs. Roosevelt with a globe and scales representing the worldwide equality she worked so hard for through the Universal Declaration of Human Rights."
Inscriptions on the quarter's reverse include "UNITED STATES of AMERICA," "QUARTER DOLLAR," "E PLURIBUS UNUM," "ELEANOR ROOSEVELT," and "UNIVERSAL DECLARATION OF HUMAN RIGHTS.
All coins of the series bear the same obverse (heads side) portrait of George Washington. The likeness of the first President of the United States was originally created by artist Laura Gardin Fraser to mark Washington's 200th birthday in 1932.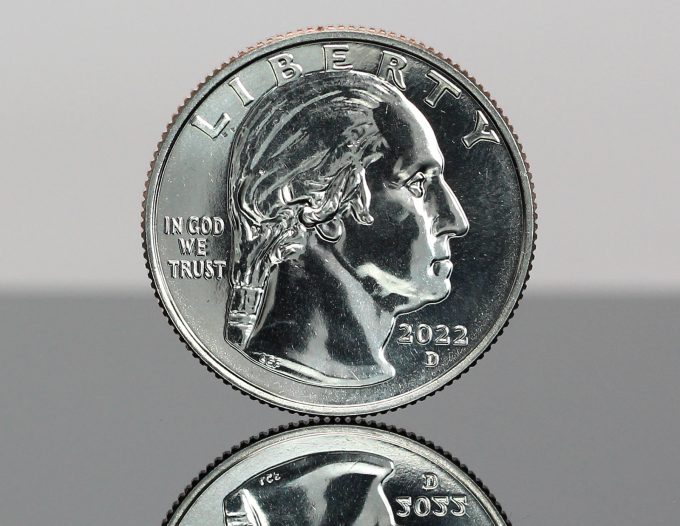 Obverse inscriptions read "LIBERTY," "IN GOD WE TRUST" and "2023."
Quarter Specifications
Denomination:
Quarter
Finish:
Uncirculated
Composition:
8.33% nickel, balance copper
Weight:
5.670 grams
Diameter:
0.955 inch (24.26 mm)
Edge:
Reeded
Mint and Mint Mark:
Philadelphia – P
Denver – D
San Francisco – S
Privy Mark:
None
Ordering
Eleanor Roosevelt quarters may be ordered by visiting the U.S. Mint's online catalog quarter products.
The two-roll sets have a product limit of 9,140 with an initial household order limit of three. Three-roll set sales are capped at 12,620, also with an initial household order limit of three. Finally, the bag options are limited to 7,860 of each with limits of ten in place.
U.S. Mint's Women Quarters Program
The American Women Quarters series was authorized by Public Law 116-330 and debuted in 2022 with strikes honoring Maya Angelou, Dr. Sally Ride, Wilma Mankiller, Nina Otero-Warren, and Anna May Wong. 2023 quarters include:
Bessie Coleman – first African American and first Native American woman licensed pilot (released February 14th)
Edith Kanakaʻole – influential Hawaiian composer and custodian of native culture and traditions (debuted March 27th)
Eleanor Roosevelt – first lady, author, and civil liberties advocate (this release)
Jovita Idar – Mexican-American journalist, activist, teacher, and suffragist (August 15th)
Maria Tallchief – America's first prima ballerina (October 23rd)
These quarters can also be found in additional U.S. Mint products, such as annual sets containing proof quarters (released March 21) and silver quarters (released April 4). They will also be featured in special holiday ornaments, scheduled for release on Aug. 24.