On Monday, Oct. 23, the United States Mint will start shipping 2023 Maria Tallchief quarters to Federal Reserve Banks and their coin terminals for distribution into circulation. This coin represents the last out of five distinct quarter designs for this year and the tenth in total from the U.S. Mint's American Women Quarters™ Program.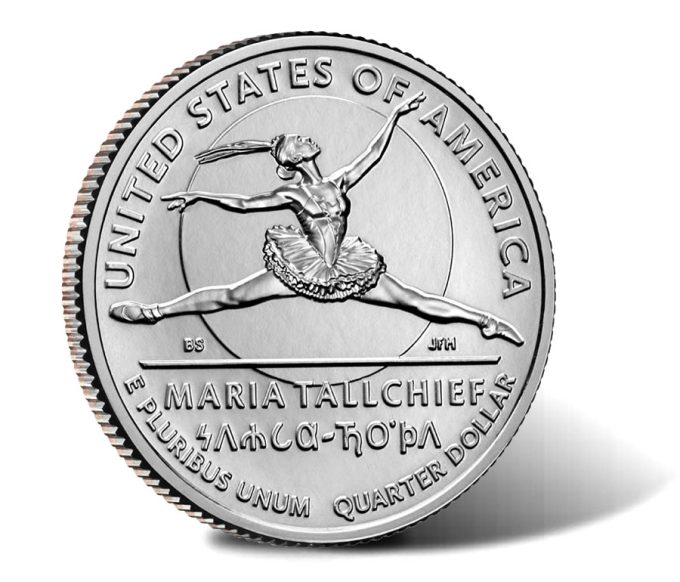 At the beginning of the four-year series in 2022, the honored individuals feature Maya Angelou, Dr. Sally Ride, Wilma Mankiller, Nina Otero-Warren and Anna May Wong. Quarters for 2023 extend the celebration of accomplishments and contributions made by American women by honoring Bessie Coleman, Edith Kanakaʻole, Eleanor Roosevelt, Jovita Idar and Maria Tallchief.
Maria Tallchief "broke barriers as a Native American ballet dancer, exhibiting strength and resilience both on and off the stage," said Mint Director Ventris C. Gibson.
On the reverse (tails side) of this quarter, there is a portrayal of Maria Tallchief spotlit in balletic pose and her Osage name, which translates to "Two Standards," written in Osage orthography. The image was designed by U.S. Mint Artistic Infusion Program Artist Ben Soward and sculpted by U.S. Mint Chief Engraver Joseph Menna.
"Although her artistry, precision, and technical skill made her one of the most renowned ballerinas of her time, it is Maria Tallchief's courage, perseverance, and strength of character that I hope are evident in the design," said Sowards. "Her legacy continues to inspire us to pursue our dreams."
Obverses (heads side) for quarters in the program share a depiction of George Washington. This portrait was sculpted 90 years ago by Laura Gardin Fraser to mark Washington's 200th birthday.
Quarters for circulation are produced at U.S. Mint production facilities in Philadelphia and Denver.
Also, on the 23rd, the U.S. Mint will make circulating Maria Tallchief quarters available on their website at https://catalog.usmint.gov. These quarters will be available in three different packaging options:
a set of two rolls,
a set of three rolls, and
100-coin bags.
The product prices vary between $40 and $60.
Notably, the three-roll set includes a roll of quarters struck at the San Francisco Mint, adding a heightened level of uniqueness since these quarters will not be found in circulation, unlike the ones produced in Philadelphia and Denver.
Quarter designs for 2024 will honor Patsy Takemoto Mink, Mary Edwards Walker, Pauli Murray, Zitkala-Ša, and Celia Cruz. Just announced this week, the quarters for 2025 will recognize Ida B. Wells, Juliette Gordon Low, Dr. Vera Rubin, Stacey Park Milbern, and Althea Gibson.