April's first release from the United States Mint debuts today at noon ET with the 2023 American Women Quarters Silver Proof Set™. Collectors and enthusiasts may appreciate the set not only for its unique composition but also for its significance in recognizing and celebrating the contributions of American women.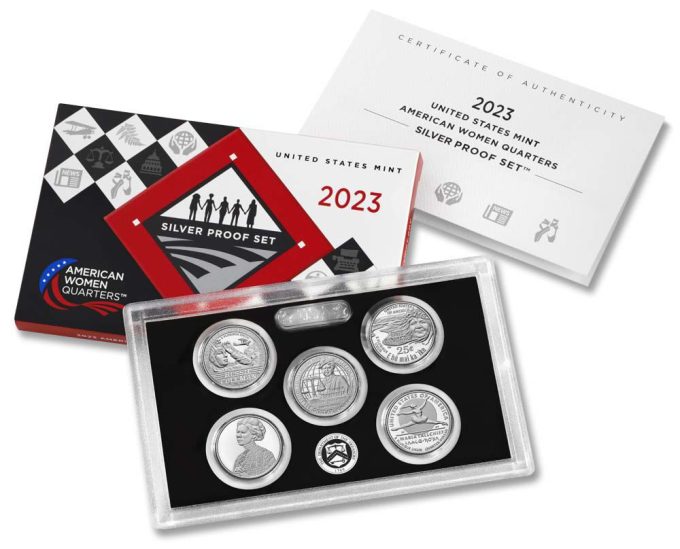 The set contains the five 2023 American Women Quarters each struck from 99.9% pure silver. All five are produced at the U.S. Mint's facility in San Francisco and ship together in one protective lens.
Included in the 2023 American Women Quarter Silver Proof Set are coins honoring the following individuals:
Bessie Coleman – shattered barriers in aviation, despite the obstacles she faced as a woman of color
Edith Kanakaʻole's – strove to preserve Hawaiian culture through music, dance and education
Eleanor Roosevelt – staunch advocate for civil liberties and human rights with a long-lasting impact on society
Jovita Idar – activist for Mexican-American rights utilizing education and journalism to advance her goals
Maria Tallchief – Native American ballerina helped to break down racial barriers in the performing arts
The similar non-silver proof set of 2023 Women quarters was issued on March 21st of this year, and over 40,000 were sold in the first six days.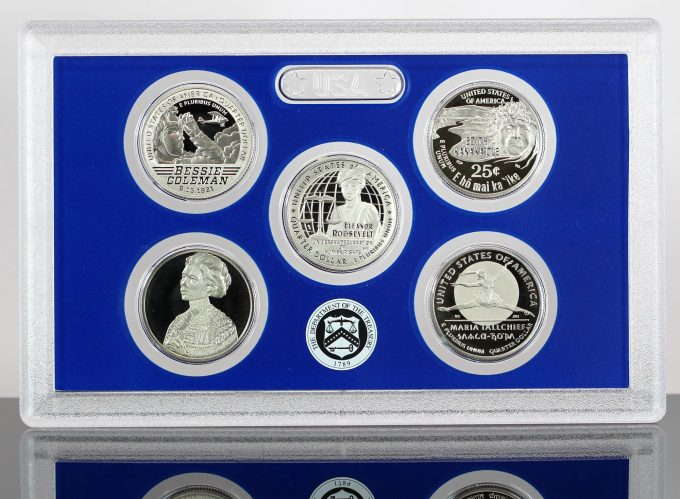 2023 marks the second year for the Mint's American Women Quarters Program™. Last year saw the inaugural release for the series with coins honoring Maya Angelou, Sally Ride, Wilma Mankiller, Nina Otero-Warren and Anna May Wong. The program is scheduled to run for four years, from 2021 to 2025.
Portraits of the honored individuals are found on the reverse (tails side) of each quarter along with inscriptions including their name, UNITED STATES OF AMERICA, E PLURIBUS UNUM and QUARTER DOLLAR.
The obverse (heads side) of each quarter contains a portrait of George Washington, the first President of the United States. The portrait used for the series was originally created by Laura Gardin Fraser as a candidate entry for the 1932 quarter.
2023 Proof Silver Quarter Specifications
| | |
| --- | --- |
| Denomination: | Quarter |
| Finish: | Proof |
| Composition: | 99.9% silver |
| Weight: | 6.343 grams |
| Diameter: | 0.955 inch (24.26 mm) |
| Edge: | Reeded |
| Mint and Mint Mark: | San Francisco – S |
Combined, the five quarters of the set total a silver weight of 1.01966 troy ounces.
Ordering and Price
2023 American Women Quarters Silver Proof Sets may be ordered directly from the U.S. Mint via its page dedicated to quarter products.
Each is initially offered for $80, representing a $7 increase over last year's release.
An initial household order limit of 5 sets has been established.