Unique and well-suited for gifting, the United States Mint will begin selling ornaments today at noon ET. These ornaments showcase the five distinct 2023 quarters, which pay tribute to Bessie Coleman, Edith Kanakaʻole, Eleanor Roosevelt, Jovita Idar, and Maria Tallchief.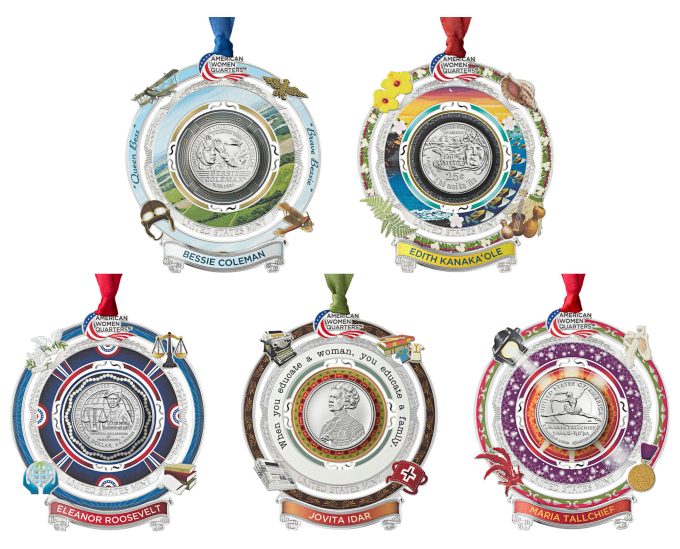 The quarters represent the second-year releases within the U.S. Mint's four-year American Women Quarters™ Program. This series was established to commemorate American women who made notable contributions across various domains, such as suffrage, civil rights, abolition, government, humanities, science, space, and the arts.
Similar ornaments were issued last year honoring Maya Angelou, Dr. Sally Ride, Wilma Mankiller, Nina Otero-Warren, and Anna May Wong. Like last year's products, each quarter included in this year's ornaments has been struck to uncirculated quality at the Philadelphia Mint.
Providing a bit more detail, the notable individuals for 2023 and the specifics of their corresponding ornaments are outlined below:
Bessie Coleman – first African American and first Native American woman licensed pilot. Her ornament includes a bird's eye view of the sky with two Curtiss JN-4 ("Jenny") planes she flew; her nicknames "Queen Bess" and "Brave Bessie;" and depictions of her helmet, goggles, and flight wings.
Edith Kanakaʻole – indigenous Hawaiian composer, custodian of native culture and traditions. This ornament celebrates the individual by representing three major houses of knowledge — the sky, the land/ocean, and lifecycles. The Hawaiian State flower, the yellow hibiscus is shown along with traditional Hawaiian instruments; a triton shell; and a palapalʻai fern.
Eleanor Roosevelt – leader, reformer, first lady, and author. Roosevelt's ornament design offers doves, hands holding a globe, and scales of justice symbolizing her advocacy of global human rights, diplomacy, and conflict resolution. A ring of pearls pays tribute to her most iconic jewelry while her prolific writing of many books, countless articles, speeches, and newspaper columns is also represented.
Jovita Idar – Mexican-American journalist, activist, teacher, and suffragist. A stack of books and shirt shown on the ornament represent the school supplies, clothing, and food Idar provided to school children. A white cross arm band (La Cruz Blanca) honors her volunteer work as a nurse during the Mexican Revolution while newspapers and typewriter represent her work as a journalist and writer.
Maria Tallchief – America's first prima ballerina. A fiery ring around the coin and feathered head piece pay homage to Tallchief's "Firebird," one of her best known performances while a sparkling purple tutu represents her role as the Sugar Plum Fairy, which made "The Nutcracker" popular in the U.S. Her National Medal of Arts award is also represented while the border design was inspired by traditional Osage patterns and is a tribute to her heritage.
Ornament dimensions are 2.7" x 3.2". Each ship in a U.S. Mint presentation box along with a certificate of authenticity.
Pricing and Ordering
Priced at $35 each, the ornaments can be found on the U.S. Mint's online store dedicated to quarter products.
There are no specified mintage or household order limits. Nonetheless, the product limitations differ, with 3,000 indicated for the Coleman and Roosevelt ornaments, and 2,500 allocated for each of the other three.
Still available at $35 apiece, the most recent sales figures for last year's ornaments exhibit a range, starting from the 2022 Nina Otero-Warren Ornament with 1,741 sales and peaking at the 2022 Anna May Wong Ornament with a leading 3,094 sales.