Honoring the 15th President of the United States, the U.S. Mint today released the 1-ounce, .999 fine James Buchanan Presidential Silver Medal. The price for the new collectible is $75, representing a $10 increase from medals in the series issued last year.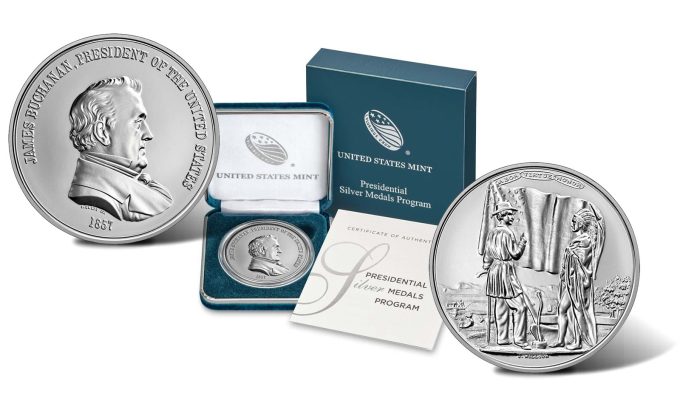 Prior to becoming President, James Buchanan created an impressive resume as a soldier, lawyer, diplomat and politician. He served in the U.S. House of Representatives, the U.S. Senate, was a U.S. minister to Russia, James K. Polk's Secretary of State as well as minister to the United Kingdom. As President, however, his performance has often been touted as less than stellar. He only served one term (as he had promised).
U.S. Mint Presidential Medal Programs
Presidential medals have a long history dating back to the earliest days of the nation. The medals were originally struck from bronze and known as Peace Medals, with each carrying a portrait of the latest President and given as a sign of peace to Native American tribes, during treaty ceremonies, and for other purposes.
The current silver medal program honoring that historic series debuted in 2018. It honors the Presidents in the order in which they served and has seen the following releases and sales:
A medal honoring Abraham Lincoln is scheduled for a release this spring, with an Andrew Johnson Medal this summer, and an Ulysses S. Grant Medal this fall.
No mintage limits apply to this series. Past medals are still available for purchase directly from the U.S. Mint.
James Buchanan Silver Medal Designs
Obverses (heads side) of the new medal show a portrait of the former President as designed by Salathiel Ellis. Inscriptions around the likeness read: "James Buchanan," "PRESIDENT OF THE UNITED STATES," and "1857."
Designed by J. Willson, the medal's reverse (tails) depicts a farmer, leaning on a plow and conversing with an Indian Chief, with an American flag in the background.
Inscriptions above the flag read: "LABOR," "VIRTUE," and "HONOR."
Presidential Silver Medal Specifications
These medals have a matte finish, giving them an appearance like that of uncirculated coin. Additional medal specifications follow.
Denomination:
N/A
Finish:
Matte
Composition:
99.9% Silver
Silver Weight:
1.000 troy oz.
Diameter:
1.598 in.
Edge:
Plain
Mint and Mint Mark:
N/A
Privy Mark:
None
Design:
Obverse Designer: Salathiel Ellis
Reverse Designer: J. Willson
Struck Under Authority of:
31 U.S.C. § 5111(a)(2)
Price and Ordering
The James Buchanan Presidential Silver Medal (along with others in the series) may be purchased from the U.S. Mint's webpage for silver medals.