The United States Mint this week released their first numismatic product of the month, the William Henry Harrison Presidential Silver Medal.
This medal is composed of 1 troy ounce of 99.9 percent fine silver with a total weight of 31.103 grams. The 1.598 inches medal offers a portrait of the ninth President of the United States on its obverse (heads side) with a wreath design and factual inscriptions on its reverse (tails side).
William Henry Harrison spent his life moving in and out of politics and military affairs. One of his most famous military encounters was the 1811 Battle of Tippecanoe against Tecumseh's confederacy where he earned the nickname "Old Tippecanoe". His name and associated fame would serve him well later in life as he won the U.S. Presidency in 1840 campaigning under the slogan of "Tippecanoe and Tyler, Too" with running mate John Tyler. His Presidency would be short-lived, however, as he became ill and died after only 31 days in office making him the shortest serving President.
Presidential Medal Program
The William Henry Harrison Silver Medal marks the fourth year for the program from the United States Mint which produces them as precious medal replicas of their Presidential bronze medals. Earlier released silver medals honor George Washington, John Adams, Thomas Jefferson, James Madison, James Monroe, John Quincy Adams, Andrew Jackson and Martin Van Buren.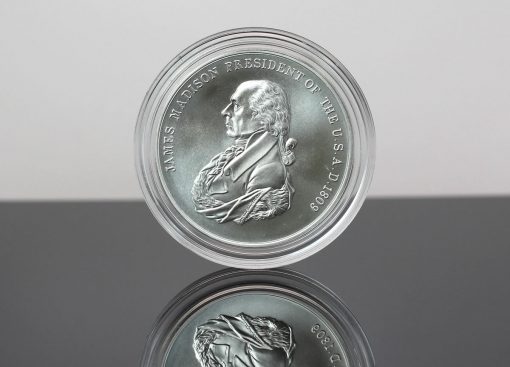 Each of them are struck on the same planchets used for American Silver Eagles. However, unlike the Silver Eagles which have a reeded edge, the medals have a plain edge. The medals have no mintmark and may be produced at different U.S. Mint facilities. They feature a matte finish which is similar in appearance to that of an uncirculated coin.
William Henry Harrison Medal Designs & Specifications
The obverse of each new medal offers a left-facing portrait of the ninth U.S. President circled by a pearled ring as created by former United States Mint Engraver George T. Morgan.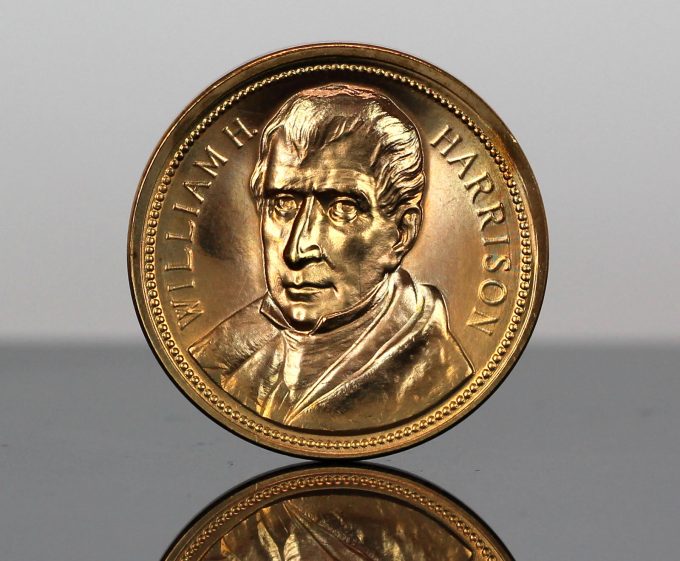 The portrait is flanked by the inscription of WILLIAM H. on the left and HARRISON on the right.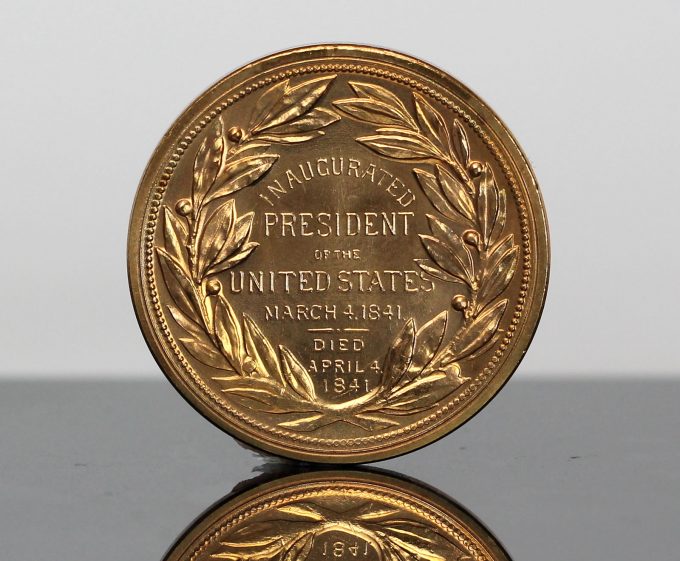 For the reverse design, we find a laurel wreath within a pearled ring with inscriptions of INAUGURATED PRESIDENT OF THE UNITED STATES MARCH 4, 1841. DIED APRIL 4, 1841.
Presidential Silver Medal Specifications
| | |
| --- | --- |
| Denomination: | N/A |
| Finish: | Matte |
| Composition: | 99.9% Silver |
| Weight: | 31.103 grams |
| Diameter: | 1.598 inches |
| Edge: | Plain |
| Mint: | N/A |
| Mint Mark: | None |
| Obverse Designer/Engraver: | George T. Morgan |
| Reverse Designer/Engraver: | George T. Morgan |
Price and Ordering
The William Henry Harrison Silver Medals may be purchased directly from the U.S. Mint via its online store page dedicated to silver medals. Pricing is $65.
Each medal is encapsulated and ships in a display case with a Certificate of Authenticity.