Appearing today from the U.S. Mint is the Zachary Taylor Presidential Silver Medal. This new collectible honors the 12th President of the United States and continues the Mint's multi-year series of 1-ounce, .999 fine silver medals featuring former presidents.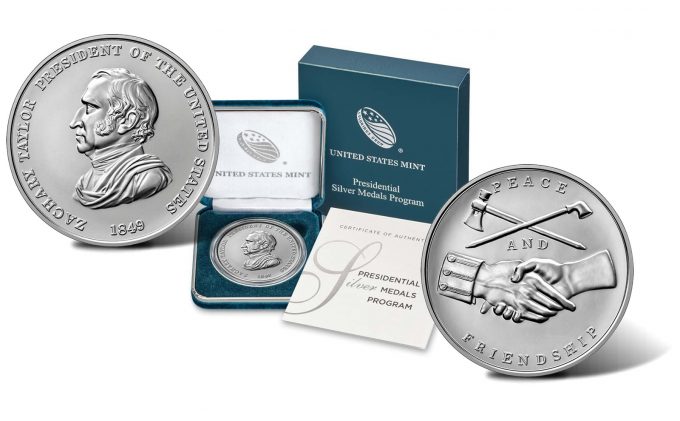 Zachary Taylor had a long and illustrious career as a military officer before becoming a politician. He assumed the office of President of the United States on March 4, 1849, and served through July 9, 1850. Taylor passed away while still in office after succumbing to a severe stomach ailment.
Presidential Medal Programs
U.S. Mint medals have a history dating back to the beginnings of the nation. Bronze peace medals featuring likenesses of the sitting President would be struck and given as a sign of peace with Native American tribes, when signing peace treaties with other nations, or for other purposes.
Presidential silver medals share the same designs as original, earlier medals in bronze. Introduced in 2018, the U.S. Mint's Presidential Silver Medal Program has included releases and sales through April 25 of:
The previously released Polk medal and this Taylor strike are two of the four planned for 2022.
Those depicting Millard Fillmore and Franklin Pierce are set to follow in the summer and fall.
Zachary Taylor Silver Medal Designs
A left-facing portrait of Zachary Taylor graces the obverse (heads side) of his Presidential Silver Medal. The portrait was created by artist Henry Kirke Brown.
Obverse inscriptions include "ZACHARY TAYLOR," "PRESIDENT OF THE UNITED STATES," and "1849."
Designed by John Reich, the medal's reverse (tails side) features the traditional design of two hands clasped in token of amity.
On the cuff of the left wrist are three stripes and buttons; the other wrist is bare. Above the hands, the pipe of peace and tomahawk are crossed over each other. Inscriptions include "PEACE AND FRIENDSHIP."
Presidential Silver Medal Specifications
These silver medals carry a matte finish, giving them an appearance like that of uncirculated coin. Additional medal specifications follow.
Denomination:
N/A
Finish:
Matte
Composition:
99.9% Silver
Weight:
31.103 grams
Diameter:
1.598 inches
Edge:
Plain
Mint and Mint Mark:
N/A
Privy Mark:
None
Design:
Obverse Designer: Henry Kirke Brown
Reverse Designer: John Reich
Struck Under Authority of:
31 U.S.C. § 5111(a)(2)
Price and Ordering
Priced at $65 and available at noon ET, the Zachary Taylor Presidential Silver Medal may be purchased from the U.S. Mint via its online page dedicated to silver medals.
The series has no mintage limits or ending sales dates.