Silver and American history enthusiasts have a new option from the United States Mint with the release on Monday of the Andrew Jackson Presidential Silver Medal.
The medal is composed of 99.9% silver to a diameter of 1.598 inches. Found on its obverse (heads side) is the likeness of Jackson, the seventh President of the United States.
Jackson served as the President from 1829 to 1837. Prior to that position, he served in the United States Army and as a member in both chambers of the United States Congress.
The U.S. Mint Presidential Silver Medals series marks its third year with the debut of this release. Issued at a rate of four per year and without sales deadlines, they bear the same imagery as found on historical bronze editions that were presented to American Indian chiefs and other important leaders at events like treaty signings. Earlier released silver medals feature George Washington, John Adams, Thomas Jefferson, James Madison medal, James Monroe and John Quincy Adams.
Medals to be issued later in 2020 will honor Martin Van Buren, William Henry Harrison and John Tyler.
Jackson Medal Designs and Specifications
The medal's portrait of Jackson was designed and engraved by Moritz Furst. Inscriptions around the likeness include "ANDREW JACKSON," "PRESIDENT OF THE UNITED STATES" and "A.D. 1829."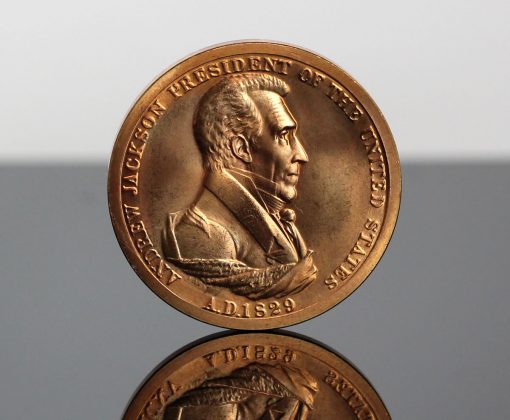 Its reverse (tails side) was designed and sculpted by John Reich. It bears the inscription of "PEACE AND FRIENDSHIP."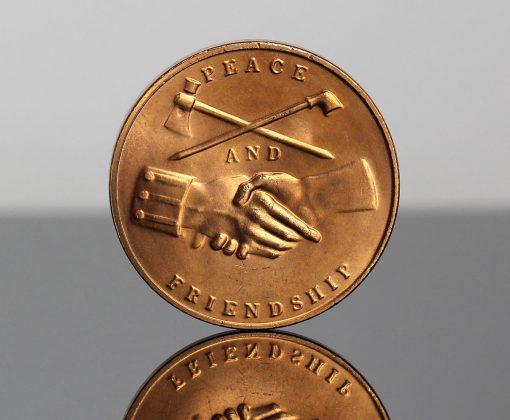 That sentiment is further symbolized by two hands clasped in token of amity. On the cuff of the left wrist are three stripes and buttons with the other wrist being bare. A crossed peace pipe and tomahawk appear above the hands.
Presidential Silver Medal Specifications
| | |
| --- | --- |
| Denomination: | N/A |
| Finish: | Matte |
| Composition: | 99.9% Silver |
| Weight: | 31.103 grams |
| Diameter: | 1.598 inches |
| Edge: | Plain |
| Mint: | N/A |
| Mint Mark: | None |
| Obverse Designer/Engraver: | Moritz Furst |
| Reverse Designer/Engraver: | John Reich |
Presidential Silver Medals are produced on the same planchets as American Silver Eagles but have a plain edge instead of a reeded edge. Medals have no mintmark and may be produced at different U.S. Mint facilities. Each has a matte finish which is similar in appearance to that of an uncirculated coin.
Price and Ordering
Priced at $46, the Andrew Jackson Presidential Silver Medal is available directly from the Mint's online section of silver medals, found here. Orders may also be placed by calling 1-800-USA-MINT (872-6468).
Each encapsulated medal comes in a display case and ships with a Certificate of Authenticity.