Two different products celebrating a coin last issued a century ago are available for pre-ordering today from the United States Mint. Beginning at Noon (EDT), consumers may pre-order the 2021 Morgan Silver Dollar with a CC (Carson City) Privy Mark and the 2021 Morgan Silver Dollar with an O (New Orleans) Privy Mark. Both honor the last issuance of the Morgan dollar in 1921.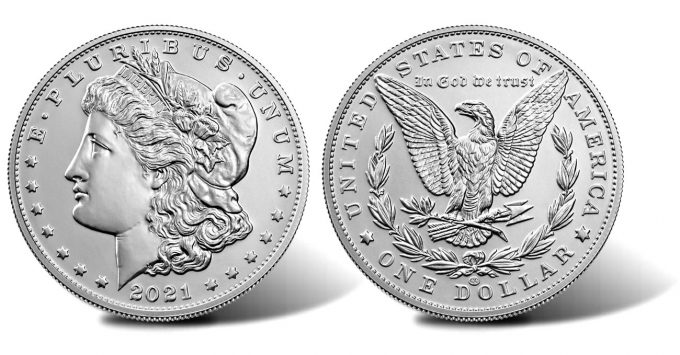 Designs for the new coins were regenerated using multiple historical U.S. Mint assets to include original plasters, galvanos and actual tooling. Each, which features an uncirculated finish, is priced at $85 and limited to sales of 175,000. Buyers can only order 10 per. Another note of interest, 10% are already reserved for participants of the Mint's Authorized Bulk Purchase Program (ABPP) who will pay a premium of 5% for each coin, plus shipping.
Given the above factors coupled with pent-up demand, the pair of coins will sell out exceedingly quick with many collectors experiencing extreme frustration with the inability to buy even one.
These dollars are authorized under Public Law 116-286, the 1921 Silver Dollar Coin Anniversary Act. As part of that Act to commemorate the 100th anniversary switchover from Morgan to Peace dollars, these two along with another three 2021 Morgan dollars will be issued this year. There is also a 2021 Peace dollar on the horizon. (Learn more about the six 2021 silver dollars.)
2021 Morgan Dollar Designs and Specifications
Congress mandated that the designs of the 2021 dollars be renditions of their historical counterparts. The original issues were produced from 1878 to 1904, and then again in 1921. Designs for the coin were completed by U.S. Mint Chief Engraver George T. Morgan, from which they take their nickname. They are said to express the country's westward expansion and industrial development in the late 19th century.
Appearing on the obverse (heads side) of each is a profile portrait of Lady Liberty. A cap, flora, and a crown incused with the word "LIBERTY" adorn her head. Thirteen stars, "E PLURIBUS UNUM," and the date of issuance encircle her.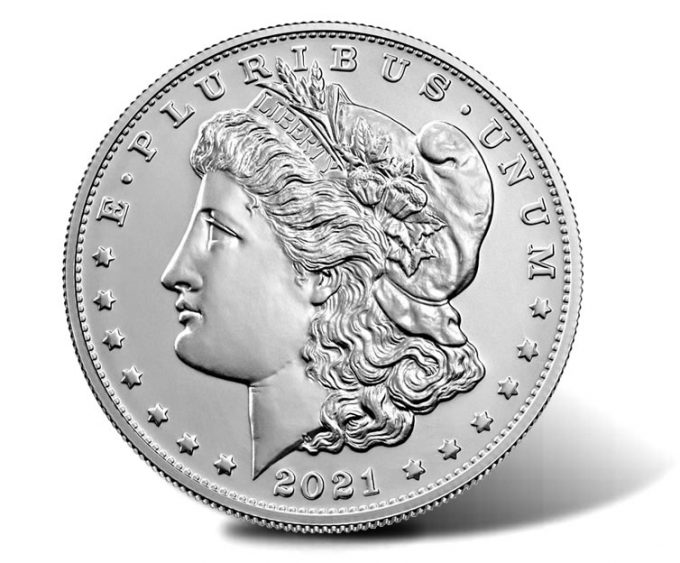 The reverse depicts a heraldic eagle with outstretched wings clasping arrows and an olive branch, accompanied by a wreath. Reverse inscriptions include "UNITED STATES OF AMERICA," "IN GOD WE TRUST," and "ONE DOLLAR."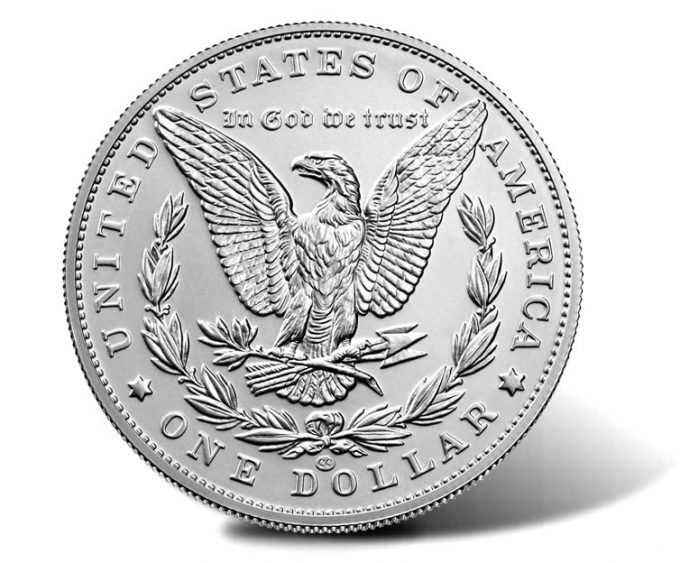 Privy marks of "CC" for Carson City or "O" for New Orleans are also present on the reverse.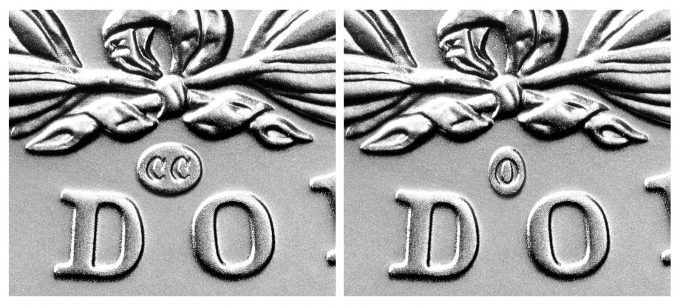 Specifications for the coin are as follows:
2021 Morgan Silver Dollar Specifications
Denomination:
$1
Finish:
Uncirculated
Composition:
99.9% Silver
Silver Weight:
0.858 troy oz.
Diameter:
1.500 inches (38.10 mm)
Edge:
Reeded
Privy Mark:
CC for Carson City
O for New Orleans
Mint and Mint Mark:
Philadelphia – none
Pre-ordering and Shipping
Beginning at noon, the dollars may be pre-ordered directly from the U.S. Mint at 2021 'CC Morgan Silver Dollar and 2021'O' Morgan Silver Dollar. The dollars will not ship until October.
Each arrives within a United States Mint black box, with an outer sleeve adorned with an image of the coin obverse and accompanied by a Certificate of Authenticity.
Of note, the U.S. Mint will verify credit card information when pre-ordering products but cards will not be charged until products ship. To prevent order cancellations for later shipping products, always keep credit card information on account with the Mint current.