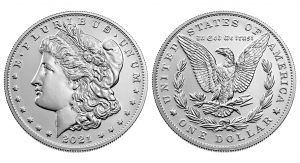 Pre-ordering opens Monday, May 24, for the first two of six 2021-dated Morgan and Peace Silver Dollar products.
Production of the five 2021 Morgan Silver Dollars will halt at 875,000. No more than 200,000 of the 2021 Peace Silver Dollars will be made. 2021 Morgan and Peace dollar products will stay at the current six — no set combinations or other options will be offered. The United States Mint will allow authorized bulk purchasers to claim up to 10% of the silver dollars before they go on sale to the public. The U.S. Mint also hopes the production of Morgan and Peace dollars will continue into next year and beyond.
These tidbits were unveiled May 4 by U.S. Mint Director David J. Ryder and Mint staff during a roundtable discussion with members of the numismatic media to help broaden information available to the public about the dollars.
Background
Last month the Mint published images and other information about the six products which celebrate the 100th anniversary in 2021 of the production transition from Morgan dollars to Peace dollars.
U.S. Mint facilities in Philadelphia, Denver and San Francisco will manufacture the five 2021 Morgan dollars. Those made in Philadelphia will not have a mint mark while the ones from Denver and San Francisco will carry respective mint marks of 'D' and 'S'. The Philadelphia Mint will also strike Morgan dollars with privy marks for the former New Orleans and Carson City Mints in honor of their Morgan silver dollar production.
2021 Peace dollars will only be minted in Philadelphia and they will not have a mint mark.
Products and Mintages
The five 2021 Morgan dollar products are limited to 175,000 each, for a combined mintage of 875,000 coins. The one 2021 Peace Silver dollar has a product limit of 200,000. Mint officials would have liked to offer more, but they lacked the time and, most significantly, supplies.
The authorizing legislation for the dollars, the 1921 Silver Dollar Coin Anniversary Act (Public Law 116-286), wasn't signed into law until earlier this year, and the Mint has had to allocate supplies of their silver products due to limited raw materials and high demand — boosted because of market conditions as well as the switchover in designs for the popular American Silver Eagles.
At one point in the discussion, Mint director Ryder said: "We just don't have enough silver blanks."
The Mint has also been impacted by COVID.
As such, published limits for the silver dollars will not increase and no additional Morgan and Peace dollar product options will be introduced in 2021.
Multi-Year Series of Morgan and Peace Silver Dollars
Mint officials hope the 2021 dollars will sellout as that would signal support for an ongoing series of annual issues which is already permitted under the authorizing law.
Such a series could result in Morgan and Peace silver dollars with varying finishes, like proof, reverse proof, enhanced uncirculated and circulating, as well as special sets and product pairings.
It would be a non-commemorative annual program — similar to the American Eagle and Buffalo series — that could potentially create a new generation of Morgan and Peace dollar collectors.
Dealers Get 10%
Approved dealers from the U.S. Mint's Authorized Bulk Purchase Program (ABPP) can order up to 10% of the entire mintage. This amount is already reserved for them.
Matt Holben, the Mint's director of sales and marketing, stressed that dealers under ABPP will not receive early delivery of the dollars. They will also have to pay a 5% premium above each coin's retail price and freight/shipping costs.
Holben indicated that the bulk program has helped in reducing online ordering congestion and resulting frustrations for high-demand products. Holben recalled an instance before the ABPP where simultaneous website sessions exceeded 300,000 during a popular product launch. Conversely, concurrent web sessions have been under 40,000 with sellout products since the implementation of ABPP.
Pre-ordering Dates Staggered
Pre-ordering times for the six dollars are spread across three different times with two dollars sold on each date — May 24, June 1 and June 7.
The Mint staggered the on-sale dates across several weeks in an attempt to reduce the online hassles of trying to order every dollar in one session and to increase chances for customers to get all six coins. For similar reasons and after customer feedback, it also reduced household limits for each dollar to 10 from 25.
Pre-Order Windows
Shipping and CC Charges
The dollars will begin shipping in October.
The Mint's ecommerce system will only verify a credit card at the time an order is placed. It will not charge the card until product shipping begins. Therefore, remember to keep account information updated at catalog.usmint.gov to prevent order cancellations for such things as an expired credit card.