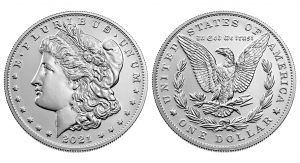 The United States Mint reduced the household ordering limits to 10 each for their six upcoming products which celebrate the 100th anniversary of the production transition from Morgan dollars to Peace dollars.
The U.S. Mint earlier released images and sales information regarding the centennial 2021 Morgan and Peace Silver Dollars. At that time, household order limits were set at 25 coins per household.
Pre-orders open in May and June for the six anniversary products — five 2021 Morgan Silver Dollars and one 2021 Peace Silver Dollar. Each is priced at $85. The Morgan dollar products are limited to 175,000 each while the Peace dollar is capped at 200,000.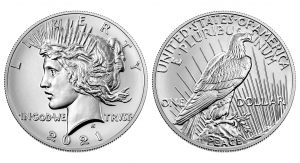 Each of the products will have a two week pre-sales window.
Pre-ordering opens May 24 for the privy marked 'CC' and 'O' 2021 Morgan dollars which pay homage to the historic minting facilities in Carson City and New Orleans.
Pre-sales for the Denver ('D') and San Francisco ('S') mint-marked Morgan dollars open June 1.
Pre-ordering for the no mint-marked Morgan dollar from Philadelphia starts June 7.
Pre-sales for the no mint-marked Peace dollar from Philadelphia begins June 7.
The dollars are expected to begin shipping in October.