Military and medal enthusiasts will want to take note that today, at noon ET, the United States Mint is launching the U.S. Marine Corps 1 Ounce Silver Medal. The medal is composed of 1 troy ounce of 99.9% silver and features designs that honor the United States Marine Corps and its history.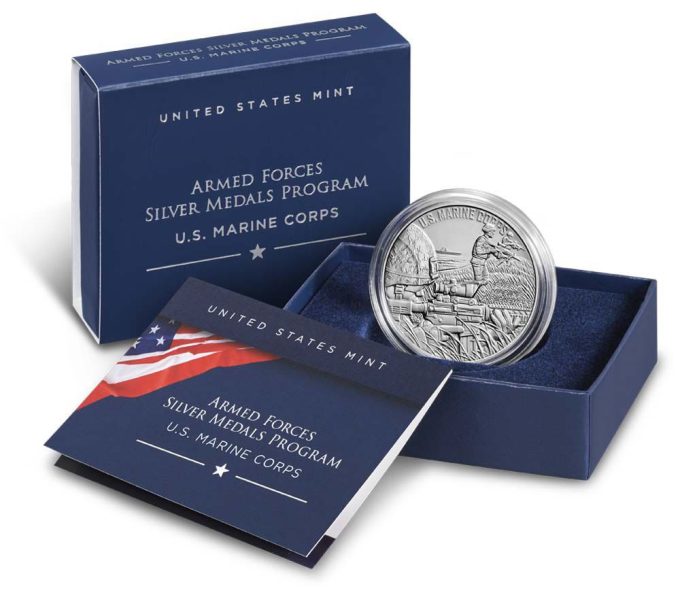 If the designs look familiar to anyone, it may be because they were first seen on the Mint's Marine Corps 2.5 Ounce Silver Medal which launched last year. They will also be showcased later this year on a bronze version which the U.S. Mint has indicated will be issued in the fall.
All of the Marine Corps medals appear as part of the U.S. Mint's Armed Forces Silver Medal Program. The series debuted in 2021 and has seen (or will see) 2.5 ounce silver, 1 ounce silver and bronze medals issued to honor one of the six branches of the U.S. Armed Forces: Air Force, Army, Coast Guard, Marine Corps, Navy, and Space Force.
The program has so far included these releases:
U.S. Marine Corps Silver Medal Designs
For the obverse (heads side) of this latest medal, three Marines are shown. They are depicted moving ashore just after an amphibious landing, each carrying an M4 rifle. A Marine in the foreground lies hidden in the grass, providing cover for the other two about to crest a hill. A U.S. warship is visible on the horizon.
Inscriptions read "U.S. MARINE CORPS," and "EVERY MARINE A RIFLEMAN." The design was created by Emily Damstra and sculpted by Phebe Hemphill.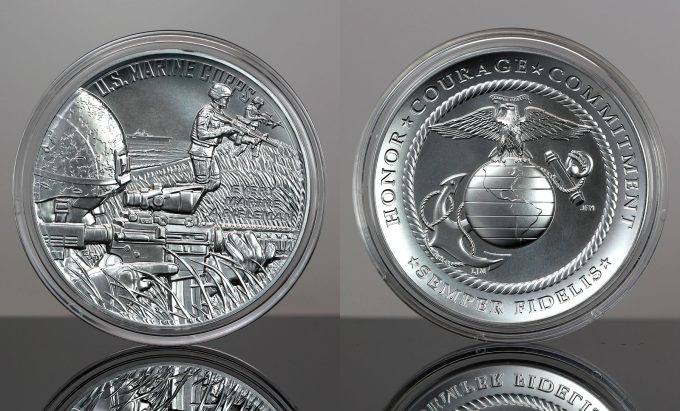 The reverse of the silver medal shows the Marine Corps Eagle, Globe, and Anchor emblem encircled by a rope border. Around the design are inscriptions of the the core values of the Marines — "HONOR," "COURAGE," and "COMMITMENT," and the Marine Corps motto "SEMPER FIDELIS" ("always faithful").
The reverse was designed by Laurie J. Musser and sculpted by Joseph Menna.
Marine Corps 1 oz Silver Medal Specifications
| | |
| --- | --- |
| Denomination: | N/A |
| Finish: | Matte |
| Composition: | 99.9% Silver |
| Weight: | 1.000 Troy oz. |
| Diameter: | 1.598 in |
| Edge: | Plain |
| Mint and Mint Mark: | N/A |
| Privy Mark: | None |
Ordering
The Marine Corps 1 Ounce Silver Medal may be ordered by visiting the U.S. Mint's online store for silver medals. Each medal is priced at $75, with no listed mintage or product/household order limits.