Today, August 8th, the United States Mint released the U.S. Navy Bronze Medal, available for $20. Designs on the new medal pay tribute to the United States Navy, and have already appeared on the previously issued Navy 2.5- and 1-ounce silver medals.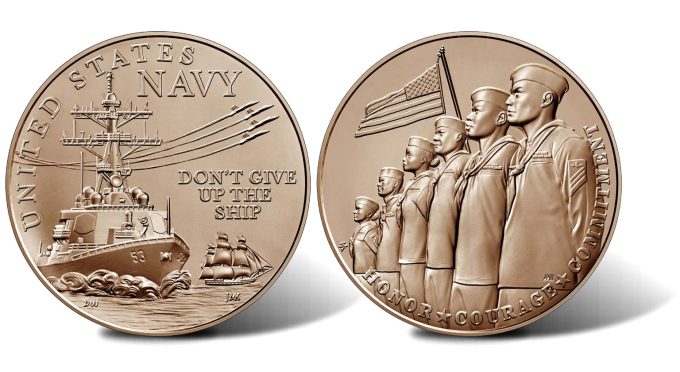 This medal serves as the bronze counterpart to those U.S. Navy Silver Medals and is issued under the Mint's multi-year Armed Forces series, a collection designed to pay tribute to all six branches of the U.S. military: the Air Force, Army, Coast Guard, Marine Corps, Navy, and Space Force. To date, the complete silver and bronze medal program has seen eleven releases including today's piece:
As shown, the Navy was celebrated with the 2.5 ounce silver medal in March of 2022 and the 1 ounce silver variety just last month.
U.S. Navy Bronze Medal Designs
All three Navy medals bear the same basic imagery on their obverse (heads side) and reverse (tails side). On the obverse, this includes a depiction of the Navy destroyer John Paul Jones shown with the historic U.S.S. Constitution off in the distance. An F-18 Hornet formation can be seen overhead.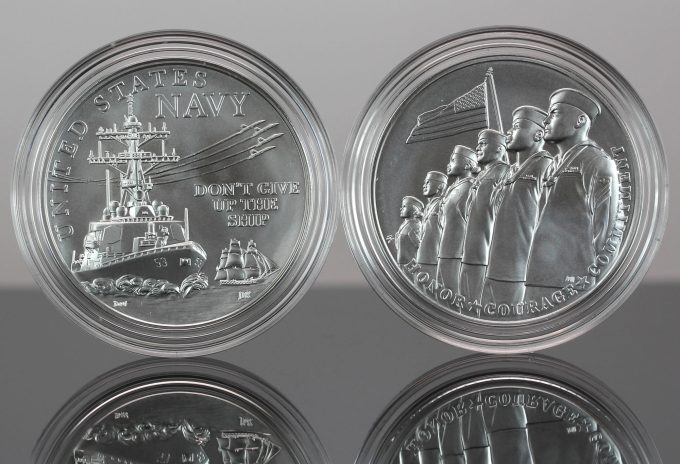 Inscriptions on the obverse read "UNITED STATES NAVY" and, lastly, "DON'T GIVE UP THE SHIP," which was spoken by mortally wounded Commander James Lawrence to his crew on the U.S.S. Chesapeake during the War of 1812. The design was created by Artistic Infusion Program Designer Donna Weaver with United States Mint Medallic Artist Jay M. Kushwara sculpting.
The reverse design offers a line of sailors manning the rail while the American flag flies in the background. Inscriptions display the Navy's core values, "HONOR," "COURAGE," and "COMMITMENT." This design is the work of Artistic Infusion Program Designer Steve Ferris with sculpting by United States Mint Medallic Artist John P. McGraw.
Official specifications for the medal, as provided by the U.S. Mint, are as follows:
Finish:
Matte
Composition:
95% copper, 5% zinc
Diameter:
1.500 in.
Edge:
Plain
Mint and Mint Mark:
N/A
Privy Mark:
None
Design:
Obverse Designer: Donna Weaver, Artistic Infusion Program Designer
Obverse Sculptor: Jay M. Kushwara, United States Mint Medallic Artist
Reverse Designer: Steve Ferris, Artistic Infusion Program Designer
Reverse Sculptor: John P. McGraw, United States Mint Medallic Artist
Struck Under Authority of:
31 U.S.C. § 5111(a)(2)
Ordering
The Navy Bronze Medal may be purchased directly from the U.S. Mint via their online store for military medals along with other Armed Forces Medals. No mintage, product or household order limits are in place.