Military and coin lovers alike will want to check out the newest product from the United States Mint, the U.S. Air Force 2.5 Ounce Silver Medal. Demand for the medal is expected to exceed supply, so not everyone will be able to purchase one when its released today at noon ET.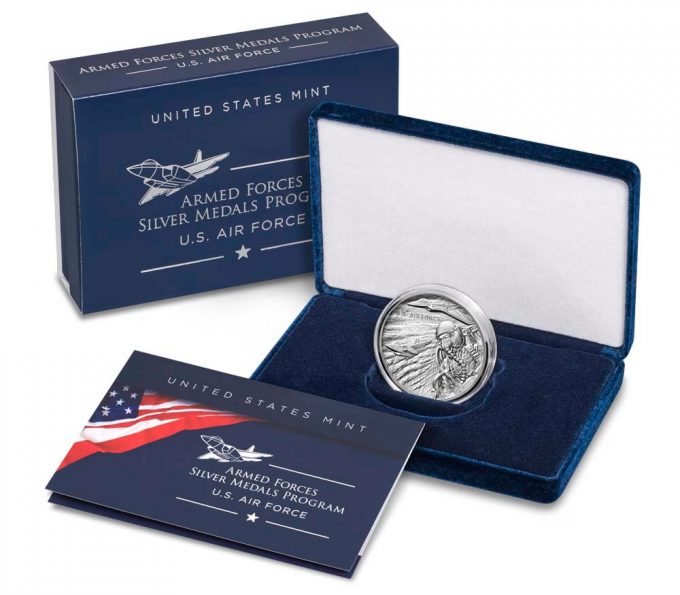 Struck in .999 fine silver to a diameter of 2 inches, the product marks the first from the U.S. Mint's Armed Forces Silver Medal Program. Future releases will honor the other U.S. military branches including the Coast Guard, Navy, Marine Corps and Army. Bronze versions of the medals are also planned for down the road. In addition, a 1-ounce version of the Air Force Silver Medal will also be available next year.
Over two dozen design candidates for the Air Force Silver Medal were unveiled back in 2018. Three were recommended following reviews. The final two designs were selected by the Treasury Secretary.
The medal was expected to debut in 2020 and again in June. Circumstances changed, however, owing to factors such as the pandemic and ordering system improvements, delaying the medal's release until this time. The program is scheduled to continue in August with the Coast Guard Silver Medal slated to be appear on the 17th.
Air Force Silver Medal Designs and Specifications
An image emblematic of the United States Air Force appears on the obverse (heads side) of each new silver medal. The design depicts a fighter pilot with F-22 fighter jets in the distance and a rough terrain below. Inscribed above and to the left of the pilot is "U.S. AIR FORCE."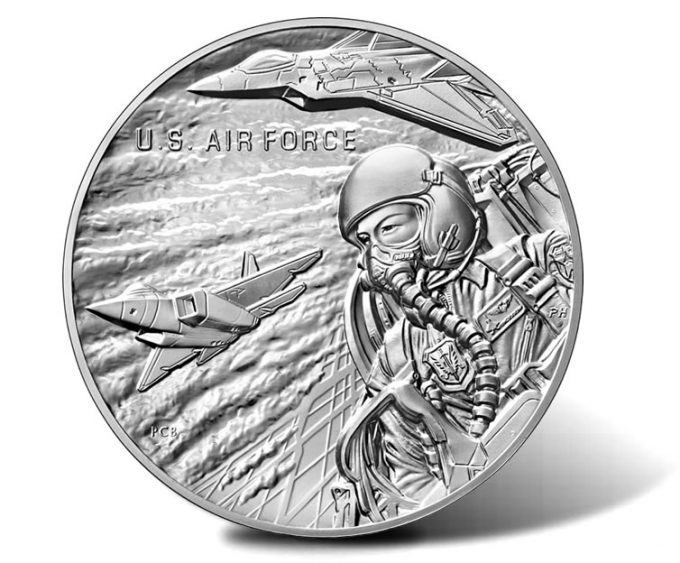 The design was created by United States Mint Artistic Infusion Program (AIP) Designer Paul C. Balan with United States Mint Medallic Artist Phebe Hemphill sculpting.
For the reverse (tails side), we find an artistic representation of the three spires of the Air Force Memorial, which is located near the Pentagon in Arlington County, Virginia. Surrounding the memorial are members of the U.S. Air Force Honor Guard in ceremonial assembly.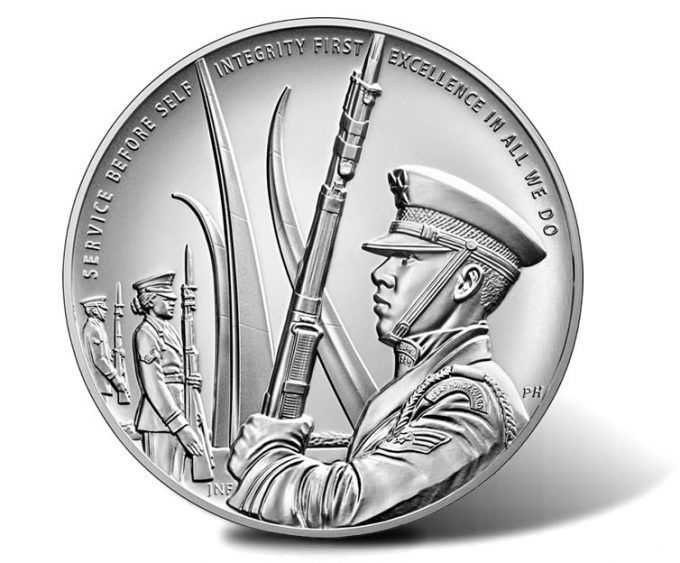 The core values of the Air Force are inscribed around the border — "INTEGRITY FIRST," "SERVICE BEFORE SELF" and "EXCELLENCE IN ALL WE DO."
AIP Designer Jamie Franki is the artist of record for the image with Ms. Hemphill also sculpting.
Medal Specifications
| | |
| --- | --- |
| Denomination: | N/A |
| Finish: | Matte |
| Composition: | 99.9% Silver |
| Weight: | 2.500 Troy oz. / 77.759 g |
| Diameter: | 2.00 inches |
| Edge: | Plain |
| Mint and Mint Mark: | Philadelphia / None |
| Privy Mark: | N/A |
These medals are produced at the U.S. Mint's facility in Philadelphia, but bear no mintmark as is common with U.S. Mint medals.
Ordering and Price
The Armed Forces medal may be purchased directly from the U.S. Mint via their online store for silver medals.
Pricing is listed as $160 with an initial household order limit of one. There is no mintage limit.