The United States Mint is now selling a bronze version of the two Air Force Silver Medals that were issued as a part of their U.S. Armed Forces Silver Medal Program. The Mint program honors the six branches of the Armed Forces — Air Force, Army, Coast Guard, Marine Corps, Navy, and Space Force.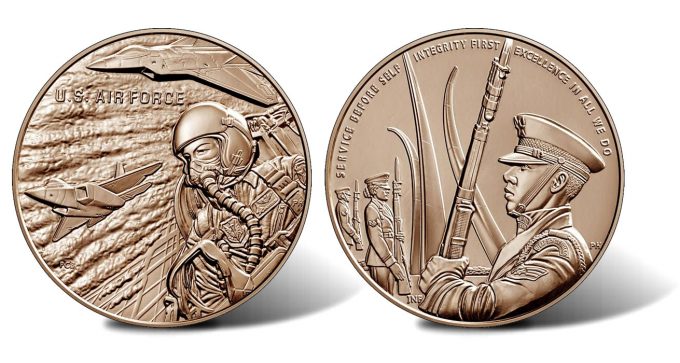 A companion to the silver program and representing the first bronze release, the U.S. Air Force Bronze Medal is $20 without limits.
As a quick recap, the large Air Force 2.5 Ounce Silver Medal launched July 13, 2021, for $160. Limited to 10,000, it is no longer available with 9,902 sold as of Nov. 27. The Air Force 1 Ounce Silver Medal was released Aug. 16, 2022, for $65. It is also no longer available and has last reported sales of 15,586.
U.S. Air Force Medal Designs
All three Air Force medals share the same designs.
Created by Paul C. Balan and sculpted by Phebe Hemphill, obverses (heads side) feature a fighter jet pilot flying alongside F-22 fighter jets, with a stylized landscape below. Inscribed above and to the left of the pilot is "U.S. AIR FORCE."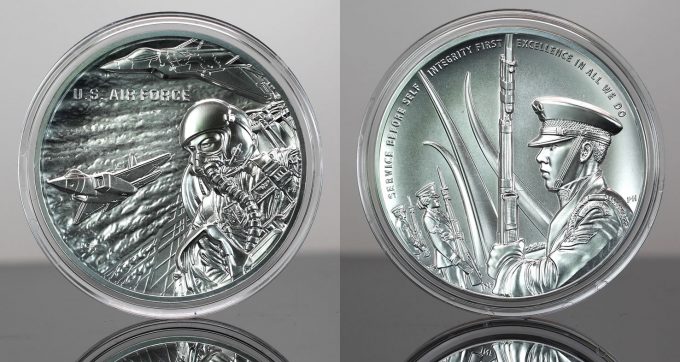 Designed by Jamie Franki and also sculpted by Hemphill, medal reverses (tails side) depict the three spires of the Air Force Memorial. Surrounding the memorial are members of the U.S. Air Force Honor Guard in ceremonial assembly. Core values of the Air Force are inscribed around the border — "INTEGRITY FIRST", "SERVICE BEFORE SELF" and "EXCELLENCE IN ALL WE DO."
Bronze Medal Specifications
Denomination:
N/A
Finish:
Matte
Composition:
95% copper, 5% zinc
Weight:
N/A
Diameter:
1.500 inches
Edge:
Plain
Mint and Mint Mark:
N/A
Privy Mark:
None
Design:
Obverse Designer: Paul C. Balan, Artistic Infusion Program Designer
Obverse Sculptor: Phebe Hemphill, United States Mint Medallic Artist
Reverse Designer: Jamie Franki, Artistic Infusion Program Designer
Reverse Sculptor: Phebe Hemphill, United States Mint Medallic Artist
Struck Under Authority of:
31 U.S.C. § 5111(a)(2)
Place Struck:
N/A
Ordering
The U.S. Air Force Bronze Medal is available directly from the U.S. Mint via their online store for military medals.