Marking the last scheduled release from the United States Mint this month, the U.S. Navy 1 Ounce Silver Medal goes on sale beginning today at noon ET. Priced at $75, the medal is composed of 1 troy ounce of 99.9% silver and features designs honoring the rich history and duty of the Navy.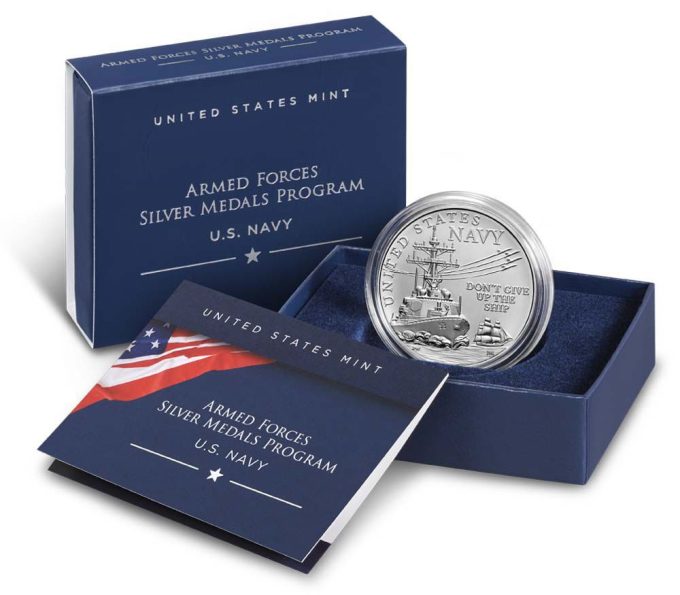 Unlike its larger 2.5-ounce counterpart, which shares the same designs, went on sale last year, and sold out, the medal has no official mintage limit and no limits on product or household orders.
For some background, this medal is the latest issue from the U.S. Mint's Armed Forces Silver Medal Program, which dates back two years and includes a variety of sizes and compositions. Each medal is struck to honor one of the six branches of the U.S. Armed Forces: Air Force, Army, Coast Guard, Marine Corps, Navy, and Space Force.
To date, releases in the Armed Forces series include:
The U.S. Navy Bronze Medal is scheduled to be issued next month on August 8th, with the Marine Corps 1-ounce silver and bronze medals listed for September 11th and this fall, respectively. No dates have been provided for any other medals, including those celebrating the Space Force.
Turning back to today's release of the Navy silver medal, its obverse (heads side) depicts the Navy destroyer John Paul Jones on the left, the historic U.S.S. Constitution on the right, and an F-18 Hornet formation overhead. Inscriptions on the obverse read "UNITED STATES NAVY" and, lastly, "DON'T GIVE UP THE SHIP," which was spoken by mortally wounded Commander James Lawrence to his crew on the U.S.S. Chesapeake during the War of 1812.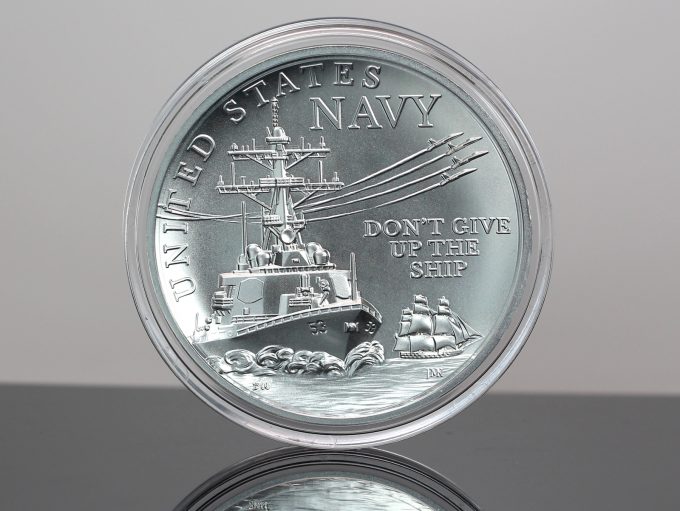 This design was created by Artistic Infusion Program Designer Donna Weaver, with United States Mint Medallic Artist Jay M. Kushwara sculpting it.
The reverse (tails side) shows a line of sailors manning the rail while the American flag flies in the background. Inscriptions display the Navy's core values, "HONOR," "COURAGE," and "COMMITMENT." This design was created by Artistic Infusion Program Designer Steve Ferris and sculpted by United States Mint Medallic Artist John P. McGraw.
Navy 1 oz Silver Medal Specifications
| | |
| --- | --- |
| Denomination: | N/A |
| Finish: | Matte |
| Composition: | 99.9% Silver |
| Weight: | 1.000 Troy oz. |
| Diameter: | 1.598 in |
| Edge: | Plain |
| Mint and Mint Mark: | N/A |
| Privy Mark: | None |
Ordering
The Navy 1 Ounce Silver Medal is available directly from the U.S. Mint via their online store for silver medals.