Today, Aug. 14, the United States Mint started shipping 2023 Jovita Idar quarters to Federal Reserve Banks and their coin terminals for distribution into circulation. This coin represents the fourth out of five distinct quarter designs for this year and the ninth in total from the U.S. Mint's American Women Quarters™ Program.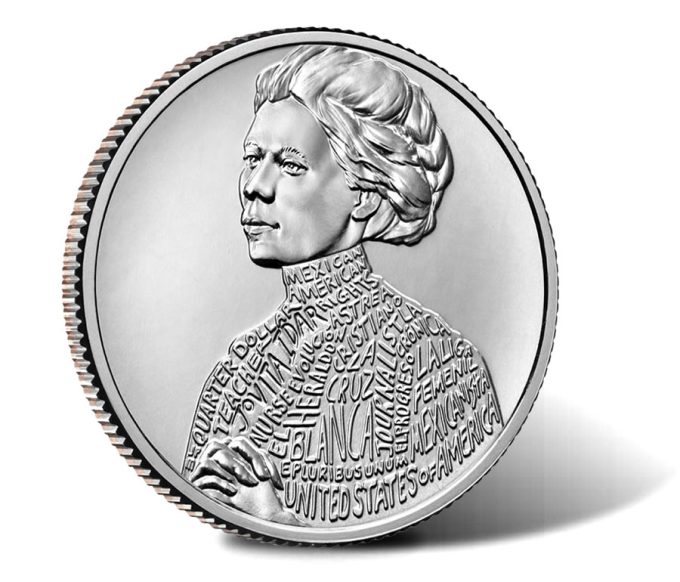 At the beginning of the four-year series in 2022, the honored individuals include Maya Angelou, Dr. Sally Ride, Wilma Mankiller, Nina Otero-Warren and Anna May Wong. Quarters for 2023 extend the celebration to honor Bessie Coleman, Edith Kanakaʻole, Eleanor Roosevelt, Jovita Idar and Maria Tallchief.
Jovita Idar "devoted her life to fighting against separatist ideologies and sought to create a better future for Mexican Americans. Her legacy continues to encourage and empower future generations," said Mint Director Ventris C. Gibson.
On the reverse (tails side) of the new quarter, there is a portrayal of Jovita Idar with her hands clasped. Inscriptions within her figure represent her accomplishments, along with mentions of the newspapers for which she wrote. The image was designed and sculpted by U.S. Mint Medallic Artist John P. McGraw.
Obverses (heads side) for quarters in the program share a depiction of George Washington. This portrait was sculpted 90 years ago by Laura Gardin Fraser to mark Washington's 200th birthday.
Quarters for circulation are produced at U.S. Mint production facilities in Philadelphia and Denver.
On Tuesday, Aug. 15, the U.S. Mint will make circulating Jovita Idar quarters available on their website at https://catalog.usmint.gov/. The quarters will be offered in a two-roll set, a three-roll set, and 100-coin bags, with prices ranging from $40 to $60. Of note, the three-roll set includes one roll of quarters produced at the San Francisco Mint. These quarters possess a higher level of uniqueness, as they will not be found in circulation like those minted in Philadelphia and Denver.