In preparation for its March 6 release, the United States Mint published images and product information for the U.S. Army 2.5 Ounce Silver Medal — the fifth of six issues from their Armed Forces Silver Medals Program.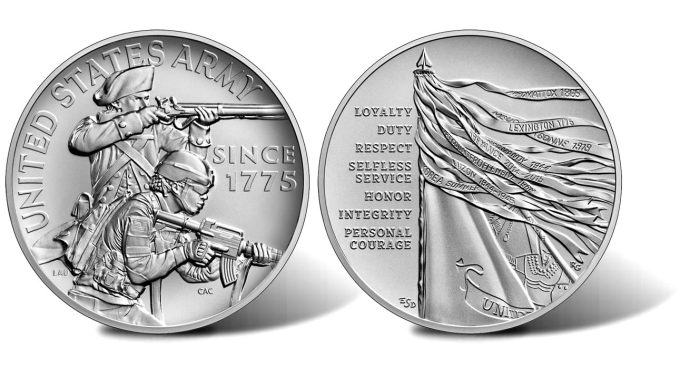 Earlier released 2.5-ounce program medals include those celebrating the Marine Corps, Navy, Coast Guard and Air Force. The last one, honoring the Space Force, has yet to be scheduled.
As described by the Mint, medal obverses (heads side) depict Continental and modern soldiers "at the ready" with the weapons of their respective eras. They represent the continuity of the U.S. Army since its beginnings and its continuing mission to defend our country. Inscriptions include "UNITED STATES ARMY," and "SINCE 1775."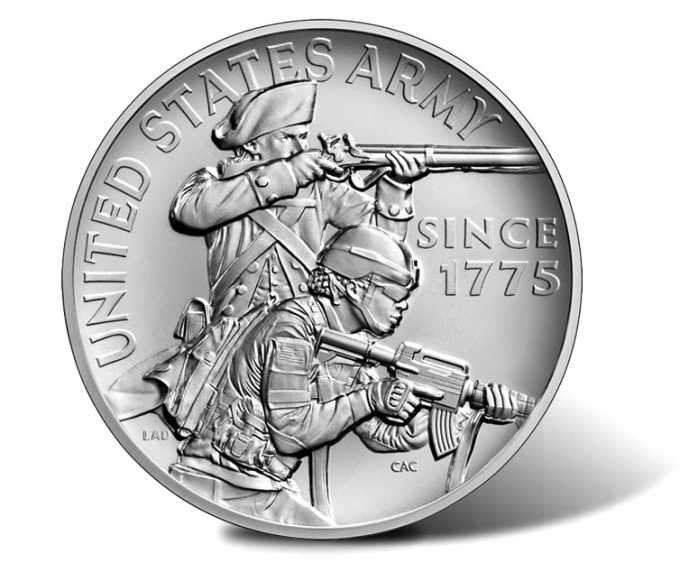 Also as described by the Mint, the medal's reverse (tails side) juxtaposes the seven core values of the Army against the U.S. Army flag, with both the flag and its streamers lifted by a breeze. The streamers from several major battles have visible text, including APPOMATTOX 1865, LEXINGTON 1775, ABEYANCE 2014 – 2015, TET COUNTEROFFENSIVE 1968, and LUZON 1944 – 1945.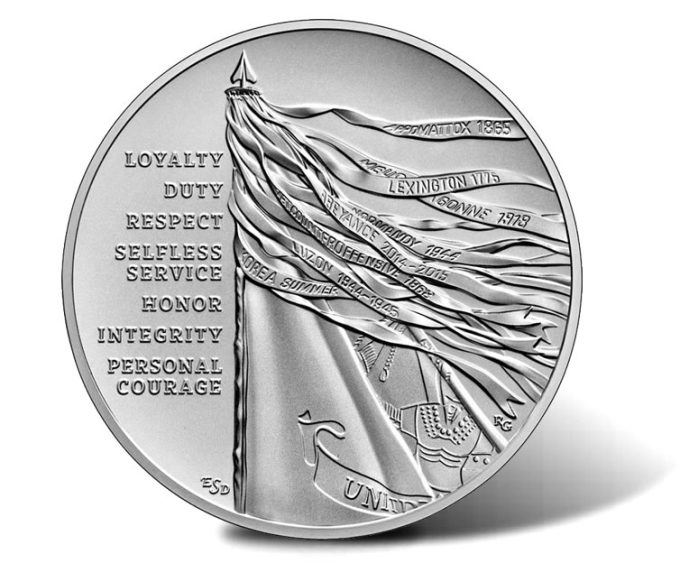 Reverse inscriptions are the Army's core values — "LOYALTY," "DUTY," "RESPECT," "SELFLESS SERVICE," "HONOR," "INTEGRITY," and "PERSONAL COURAGE."
Recently increased, the medal's price will be $175. Its mintage is 10,000 pieces like past issues — all of which sold out.
One-ounce silver and bronze versions of the Army medal will also be available. To date, 1-ounce Coast Guard and 1-ounce Air Force silver medals have been released, as has an Air Force bronze medal. These versions have no mintage limits.
The U.S. Mint's product page for the Army Silver Medal is found here.