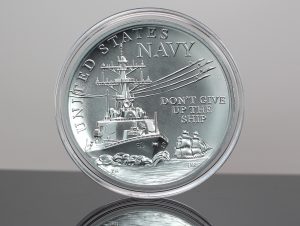 New United States Mint pricing has been announced for the collection of silver medals depicting former presidents and those honoring the six branches of the U.S. Armed Forces — the Air Force, Army, Coast Guard, Marine Corps, Navy, and Space Force.
The 1-ounce silver medals will climb to $75 from $65 while the 2.5-ounce silver medals will increase to $175 from $160.
The pricing information was revealed in a document published Feb. 7 in the Federal Register, the official source of notices by government agencies and a daily journal of their proceedings.
The larger pieces are limited to the Armed Forces medals, with four of six released to date and those no longer available. (The U.S. Mint is expected to release the Army 2.5 Ounce Silver Medal on March 6. It has yet to announce a launch date for the Space Forcer Medal.)
As of this writing, prices at https://catalog.usmint.gov/medals/silver-medals/ remain unchanged at $65 apiece for the available 1-ounce medals featuring the presidents and Armed Forces.