Visitors to Hot Springs National Park in Arkansas on Tuesday, April 20, can help in celebrating its 178th anniversary and participate in the ceremonial release of the first coin in the America the Beautiful Quarters™ Program.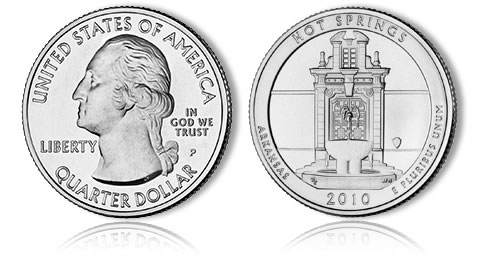 2010 Hot Springs National Park Quarter – Obverse and Reverse
The United States Mint will join National Park Service (NPS) officials in launching the Hot Springs National Park Quarter in a ceremony in front of the park's Administration Building at 10 AM CT.
Children 18 and under in attendance will receive a new quarter for free, while adults may exchange cash for $10 rolls of the coins immediately following the event, which is expected to last under one hour. There is a stated $100 limit per person for the exchange, but final amounts are often determined by how many quarter rolls are on hand and how many people stand in line to exchange.
Read the rest of this article »
{ 1 comment }