On the eve of the 2010 Lincoln cent launch ceremony in Springfield, Illinois, United States Mint Director Ed Moy met with about 60 coin enthusiasts at the Abraham Lincoln Presidential Library and Museum, where he answered questions and shared information about the US Mint and its coin programs.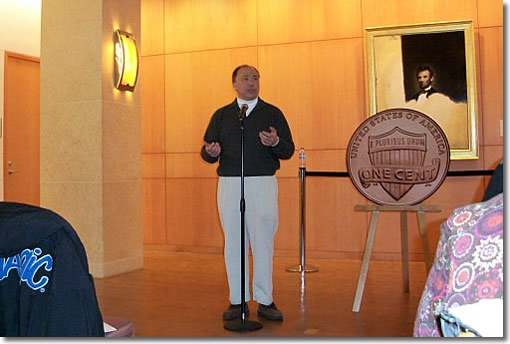 Topics included, among other things, coin release dates, designs, expected 2010 mintages for dimes, nickels and pennies, American eagles, commemoratives and the new quarters and silver bullion coins. This first article installment focuses on Mr. Moy's answers to specific questions regarding America the Beautiful Quarters.
There is also an interesting response to CoinNews' Rhonda Kay's question regarding America the Beautiful Silver Bullion Coins. Moy describes some of the challenges in striking the five-ounce silver coins, a delay in getting them out the door, and whether they will ever be sold as a numismatic product.
Read the rest of this numismatic news article »
{ 3 comments }