At Noon ET today, the United States Mint begins sales of their 2023 American Innovation Dollar Reverse Proof Set that showcases four unique designs hailing from Ohio, Louisiana, Indiana, and Mississippi.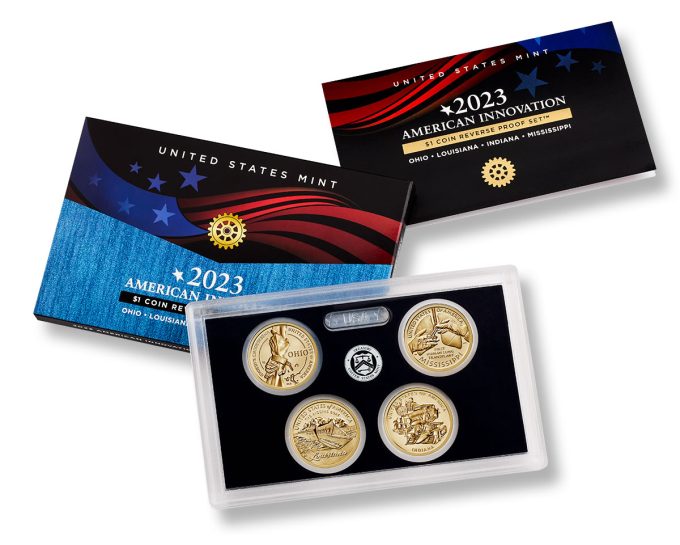 Priced at $28 and part of the the U.S. Mint's American Innovation® $1 Coin Program, now in its sixth year and honoring innovation and ingenuity from U.S. states and territories, the dollars for this year feature:
Ohio — Underground Railroad
Louisiana — Higgins Boat
Indiana — Automotive Industry
Mississippi — First Human Lung Transplant
All four coins in the set were struck at the U.S. Mint's facility in San Francisco and feature the reverse proof finish, known for its brilliant, mirror-like designs and frosted backgrounds. The collectible finish is inverted compared to regular proof coins. For example, the following two photos show 2022 Innovation dollars, with the first featuring proof coins and the second featuring reverse proof coins.
| | |
| --- | --- |
| This CoinNews photo shows a Proof Set of 2022 Innovation Dollars | This CoinNews photo shows a Reverse Proof Set of 2022 Innovation Dollars |
Earlier, on Oct. 26, the Mint released this year's traditional proof set of Innovation dollars for $24, and nearly 50,000 sets were sold in the first week.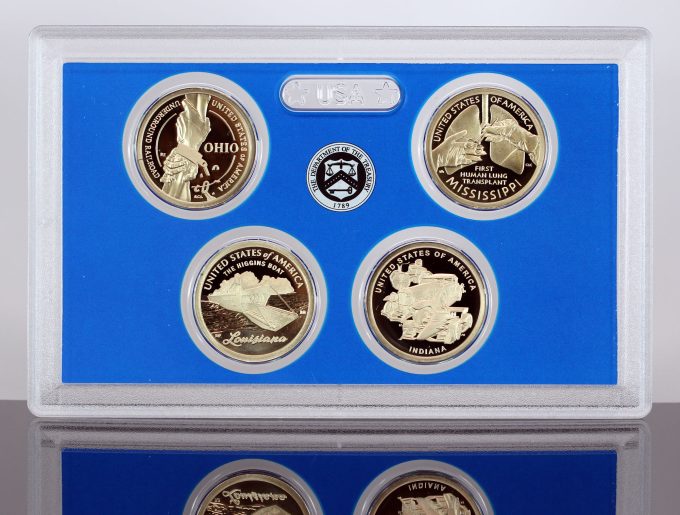 Innovation $1 Coin Specifications
| | |
| --- | --- |
| Denomination: | $1 coin |
| Finish: | Proof |
| Composition: | 6% zinc, 3.5% manganese, 2% nickel, balance copper |
| Weight: | 8.100 grams |
| Diameter: | 1.043 inches (26.49 mm) |
| Edge: | Lettered |
| Mint and Mint Mark: | San Francisco – S |
| Privy Mark: | Gear |
The Innovation series had its inaugural release in 2018, featuring George Washington's signature on the reverse, symbolizing his signing of the first U.S. patent. Since then, the series has seen four new coins annually, each depicting a different innovation. The program is scheduled to run through 2032, by which time it will have included each state, the District of Columbia, and the five U.S. territories.
For reference, in addition to the already mentioned regular proof set of 2023 dollars, the U.S. Mint has already released rolls and bags of each dollar. The Ohio dollar debuted on January 30th, the Louisiana dollar on April 10th, the Indiana dollar on June 26th, and the Mississippi dollar on August 28th.
Ordering and Mintage
The new reverse proof set is available directly from the U.S. Mint via its online store for American Innovation products.
A mintage limit of 55,044 sets has been established by the U.S. Mint with an initial household order limit of five.