Debuting today at noon ET from the United States Mint is their 2023 American Innovation $1 Coin Proof Set™. This set includes four different dollar coins, each depicting a unique instance of American ingenuity hailing from Ohio, Louisiana, Indiana, and Mississippi.
The coins within the set showcase a proof-quality finish, known for their distinct sharp reliefs, mirror-like backgrounds, and frosted foregrounds, creating a unique cameo effect. All four coins are securely housed together in a single protective lens.
Specifically, the four Innovation dollars in the proof set include:
2023-S Ohio $1 Coin depicting the Underground Railroad
2023-S Louisiana $1 Coin honoring the Higgins Boat
2023-S Indiana $1 Coin celebrating the Automotive Industry
2023-S Mississippi $1 Coin recalling the First Human Lung Transplant
All four dollars were struck at the U.S. Mint in San Francisco.
Innovation $1 Coin Specifications
| | |
| --- | --- |
| Denomination: | $1 coin |
| Finish: | Proof |
| Composition: | 6% zinc, 3.5% manganese, 2% nickel, balance copper |
| Weight: | 8.100 grams |
| Diameter: | 1.043 inches (26.49 mm) |
| Edge: | Lettered |
| Mint and Mint Mark: | San Francisco – S |
| Privy Mark: | Gear |
2023 marks the sixth year of the Mint's American Innovation Program, which originally launched in 2018. In its inaugural year, there was a single release featuring George Washington's signature on the reverse, symbolizing his signing of the first U.S. patent. Since 2018, the program has introduced four new issues each year. The series is scheduled to continue through 2032, celebrating creativity from each state, the District of Columbia, and the five U.S. territories.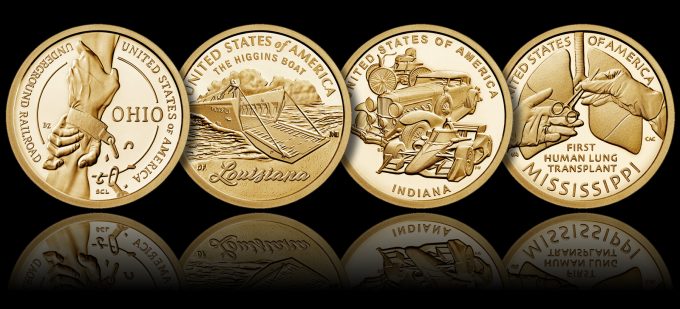 Rolls and bags of each year's $1 coins are issued by the U.S. Mint in intervals throughout the year. The Ohio dollar debuted on January 30th followed by the Louisiana dollar on April 10th, the Indiana dollar on June 26th and the Mississippi dollar on August 28th.
A 2023 American Innovation $1 Coin Reverse Proof Set is scheduled to appear on November 14th.
Ordering and Price
The 2023 American Innovation $1 Coin Proof Set is available directly from the U.S. Mint via its online store for American Innovation products, priced at $24, the same as previous issues.
A mintage and product limit of 80,055 is listed with an initial household order limit of five.