The newest release from the United States Mint highlights American ingenuity. Today at noon ET, rolls and bags of the 2023 Louisiana American Innovation Dollars debut.
| | |
| --- | --- |
| U.S. Mint image showing a bag of 2022-D American Innovation Dollars for Louisiana | U.S. Mint image showing a roll of 2022-P American Innovation Dollars for Louisiana |
Each new $1 coin features a design on the reverse (tails side) depicting a military landing craft called the Higgins Boat. The boat was designed and constructed in New Orleans, with 23,000 of them produced for use by the military in World War II to help ensure an Allied victory.
Product options for the dollar include 25-coin rolls or 100-coin bags struck by the Philadelphia or Denver Mint.
Design for the Louisiana Innovation Dollar
U.S. Mint Artistic Infusion Program Artist Dennis Friel designed the image of the Higgins Boat on the reverse of each new dollar coin, which depicts the landing craft with its ramp deployed on the beach as it would have appeared during military action. U.S. Mint Medallic Artist John P. McGraw executed the design's sculpting. The inscriptions around the design read: "UNITED STATES of AMERICA," "THE HIGGINS BOAT," and "LOUISIANA."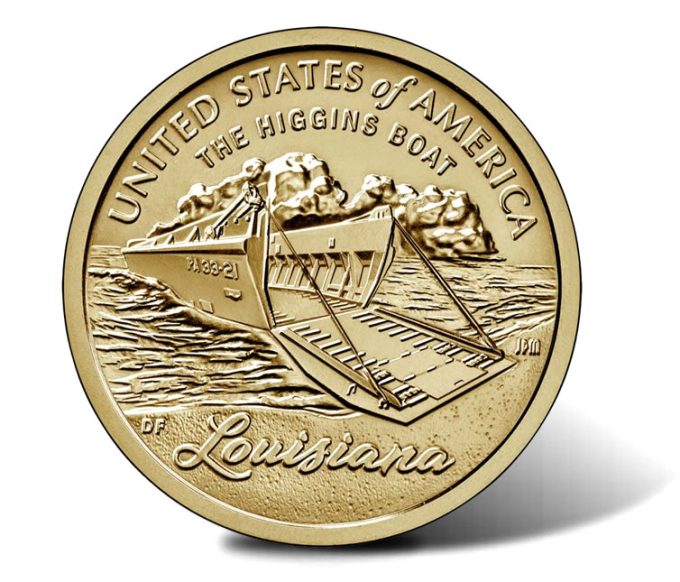 Obverses (heads side) of every dollar in the series feature the same rendition of the Statue of Liberty, along with inscriptions of "IN GOD WE TRUST" and "$1," as well as a privy mark of a stylized gear that represents industry and innovation. The design of the gear changes slightly every year. AIP Designer Justin Kunz created the design of Liberty, which was then sculpted by Mint Medallic Artist Phebe Hemphill for use on coins.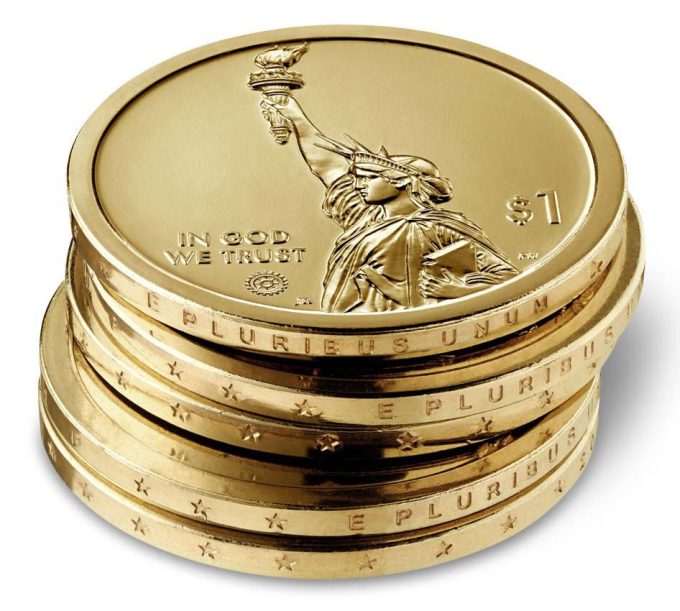 In addition, edges of the coins are incused with the year "2023," the mint mark, and "E PLURIBUS UNUM."
American Innovation Coin Program
The Mint's American Innovation® $1 Coin Program debuted in 2018 with a single release. The multi-year series features four unique designs annually, each honoring American ingenuity with a link to each state, the District of Columbia and the five U.S. territories.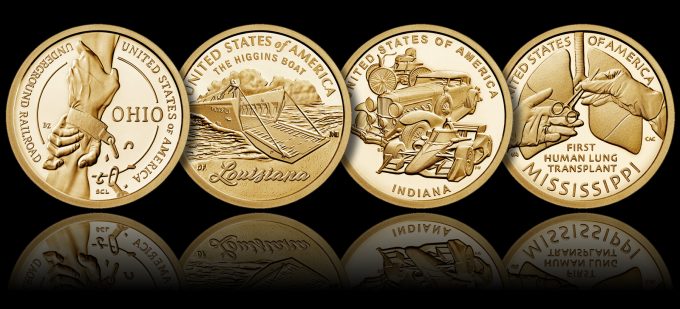 The four dollars for 2023 include:
Ohio $1 Coin – Underground Railroad
Louisiana $1 Coin – Higgins Boat (this release)
Indiana $1 Coin – Automobile industry
Mississippi $1 Coin – First human lung transplant
This series will conclude in 2032 at which time a total of fifty-seven new strikes will have been issued.
Ordering
The U.S. Mint's online store for American Innovation products is the place to go to order the new dollar coins. A roll of 25 coins costs $34.50, while a bag of 100 coins is sold for $117.50.
For the first 24 hours of sales, the Mint limits orders to 10 items of each product per household.