Four new collectible coins debut today from the United States Mint with their trademarked 2022 American Innovation $1 Coin Reverse Proof Set™ available at noon ET.
Priced at $28, all four dollars appear together in one protective lens and honor American innovation and ingenuity from the states of Rhode Island, Vermont, Kentucky, and Tennessee. Each features the unique reverse proof finish noted for its frosted backgrounds and brilliant, mirror-like relief elements — the opposite of standard proof coins.
The four coins of the set are for 2022 only and celebrate:
2022 Rhode Island Innovation $1 Coin – Nathanael Herreshoff's Reliance Yacht
2022 Vermont Innovation $1 Coin – Snowboarding
2022 Kentucky Innovation $1 Coin – Bluegrass music
2022 Tennessee Innovation $1 Coin– Rural electrification by the Tennessee Valley Authority
Designs emblematic of the above listed themes are found on coin reverses (tails side). A likeness of the Statue of Liberty is shared across the coins' obverses (heads side).
Rolls and bags of individual uncirculated Innovation dollars were released in intervals throughout the year. In addition, the standard proof set of 2022 dollars launched in August.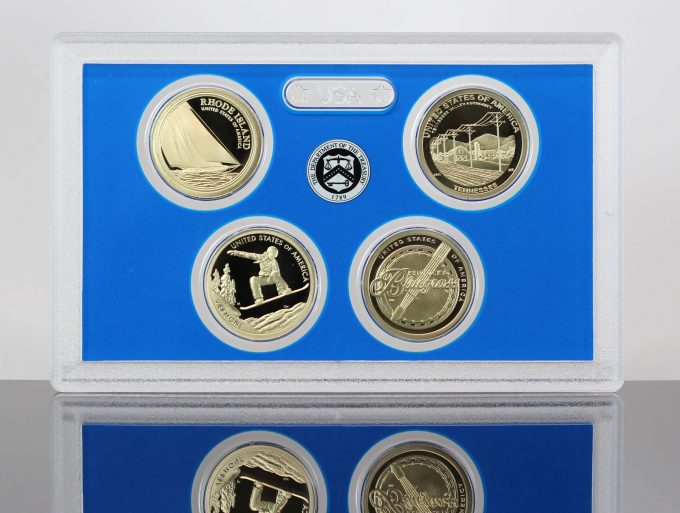 This regular proof set is still available for $24. It has sales nearing 67,500.
Ordering and Limits
The 2022 American Innovation Reverse Proof Set may be ordered beginning at Noon ET via the Mint's online store for Innovation products.
This set has a mintage of 50,000, like last year's set which eventually sold out at pricing of $28.
About American Innovation $1 Coins
The set's four 2022 dollars are fifth year issues in the U.S. Mint's innovation series. Each honors American ingenuity and trailblazing efforts with one theme chosen from each state, the District of Columbia and the five U.S. territories.
A single coin was released in the program in 2018 with a reverse design inscribed with AMERICAN INNOVATORS and George Washington's signature (who signed the first U.S. Patent). That coin was followed at a rate of four per year honoring innovation in Delaware, Pennsylvania, New Jersey and Georgia in 2019; Connecticut, Massachusetts, Maryland and South Carolina in 2020; and New Hampshire, Virginia, New York and North Carolina in 2021.
The program is scheduled to conclude in 2032 at which time fifty-seven coins will have been issued — the introductory 2018 coin, 50 state coins, the D.C. coin and the five U.S. territory coins.