Marking the first releases from the United States Mint this year are new coins celebrating American ingenuity. Debuting today at noon EST are 2023 Ohio American Innovation Dollars showcasing reverse (tails side) designs emblematic of the Underground Railroad.
| | |
| --- | --- |
| U.S. Mint image showing a bag of 2022-D American Innovation Dollars for Ohio | U.S. Mint image showing a roll of 2022-P American Innovation Dollars for Ohio |
The new dollars are available in uncirculated finish in 25-coin rolls or 100-coin bags. Each was produced at either the U.S. Mint's facility in Philadelphia or Denver.
Design for the Ohio Innovation Dollar
A symbolic reorientation of the Underground Railroad graces the dollars' reverses. The early to mid 1800s "railroad" served as a network for enslaved African Americans to escape to freedom.
"Ohio is proud to have this part of our history on the new $1 dollar coin. Ohio had many stops on the Underground Railroad, and today, the National Underground Railroad Freedom Center near the banks of the Ohio River in Cincinnati tells the story of the flight to freedom," stated Ohio Governor Mike DeWine.

"The United States Mint is honored to showcase Ohio's pivotal role in the Underground Railroad network," commented U.S. Mint Director Ventris C. Gibson. "The network of individuals, families, friends, and churches that covertly helped slaves escape to freedom was truly an innovation of human compassion and ingenuity."
Two hands grasped together are the focus of the design. The upper hand appears to be assisting the lower whose wrist is shackled with a fragmenting chain symbolizing the attainment of freedom. "UNITED STATES OF AMERICA," "UNDERGROUND RAILROAD," and "OHIO" inscriptions complete the design.
Coins of the series all bear the same basic obverse image of the Statue of Liberty along with the inscriptions of "IN GOD WE TRUST" and "$1" and a privy mark of a stylized gear, representing industry and innovation.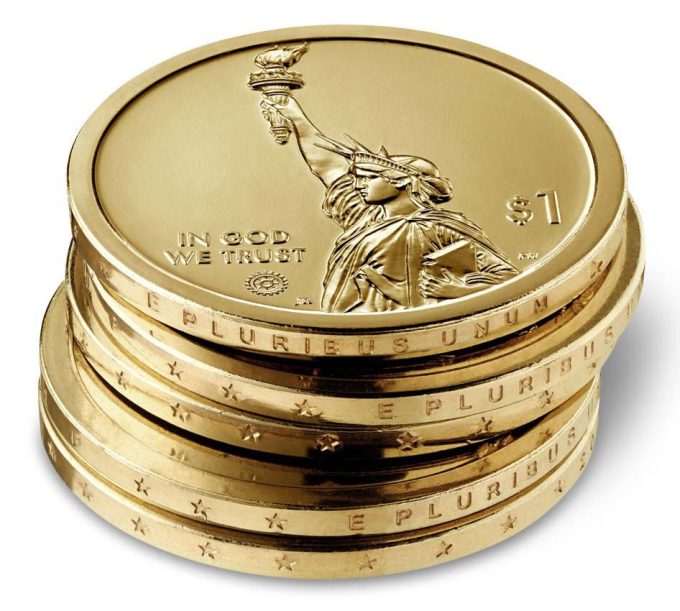 Edge-incused inscriptions show "2023," the mint mark, and "E PLURIBUS UNUM."
American Innovation Coin Program
This dollar is the first of four for 2023 from the Mint's American Innovation® $1 Coin Program. Upcoming 2023 dollars include the:
Louisiana $1 Coin – Higgins Boat
Indiana $1 Coin – Automobile industry
Mississippi $1 Coin – First human lung transplant
The program itself had a single inaugural release in 2018. Since then, four new strikes have been issued annually with four more scheduled each year through 2032. Upon completed, an innovation from each state, the District of Columbia and the five U.S. territories will have been represented.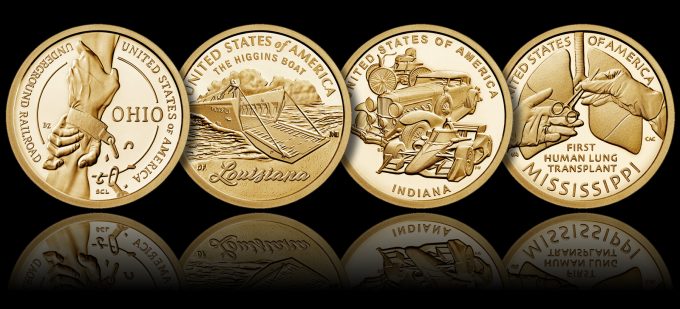 Ordering
The new dollars are available by visiting the U.S. Mint's online store for American Innovation products. The 25 coin rolls may be ordered for $34.50 with the 100-coin bags available for $117.50.
Initial household order limits of ten per product have been established.