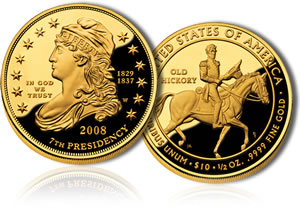 The US Mint has added Jackson's Liberty First Spouse Gold Proof Coin to its sold out list, in a move that will shock collectors of the $10, one-half ounce 24-karat gold coin series.
With the exception of sell outs due to mintage limits met, past First Spouse Coins have been available from the US Mint for a year or until replaced by a following year release.
Jackson's Liberty was launched on Aug. 28, 2008. Since 7,806 proofs and 4,493 of the uncirculated options have been sold as of Aug. 16, 2009 — well short of the combined 40,000 mintage limit — the common assumption was that the coin would remain for sale until the release of the Sarah Polk First Spouse Coins on Sept. 3.
Read the rest of this numismatic news article »
{ 1 comment }