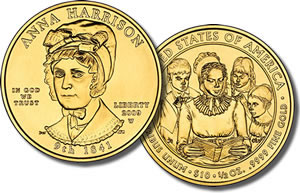 The first in the series for release in 2009 and the 9th overall, Anna Harrison First Spouse Gold Coins will go sale Thursday, March 5, the United States Mint said in a press release Wednesday.
The 24-karat, one-half ounce coins struck in proof and uncirculated conditions will be available from the US Mint at noon ET, with launch prices set Wednesday.
If the average price of gold continues its trend below $950 an ounce, the proof will be listed for $629 and the uncirculated for $616. Or, $25 less than current 2008-dated spouse coin prices.
First Spouse Coin Prices based on Gold
Average Price of London Gold

Proof Price

Uncirc. Price

$900.00

to

$949.99

$629.00

$616.00

$950.00

to

$999.99

$654.00

$641.00

$1,000.00

to

$1,049.99

$679.00

$666.00
(See US Mint First Spouse Coin price grid for how it prices coins.)
The total mintage across both coins is set at 40,000. Although the first three coins — Martha Washington, Abigail Adams and Jefferson's Liberty — sold out within hours of their release, the newer gold coins in the series have not.
While not necessarily great news speaking to their en masse popularity, collectors who purchase them have been able to count on owning coins that are not only unique, but somewhat more scarce. Most recent sales figures show a low range of 2,746 for the uncirculated 2008 Van Buren's Liberty and high of 6,112 for the proof 2008 Jackson's Liberty. (See current prices and sales figures.)
Anna Harrison and First Spouse Coin design
Anna Harrison would be known as the only First Lady who was still alive during her husband's tenure as President, but to have never actually lived in the White House with him. She would, however, be the first wife of a President to actually have received extensive formal education.
Anna was in the preparation for joining the family in Washington DC a mere month after inauguration, when she received word that her husband, William Henry, died from complications from pneumonia.
Anna died on February 25, 1864 at the age of 88. She spent her last few years actively involved in the church, and used her influence as the wife of a former president to promote her grandchildren's interests.
The Anna Harrison First Spouse Gold Coin's obverse (heads) side depicts a portrait of her designed by Donna Weaver and sculpted by Joseph Menna. The reverse, designed by Thomas Cleveland and sculpted by Charles Vickers, depicts Mrs. Harrison sharing her passion for teaching with her students.
Order information
Beginning at noon ET on March 5, the coins may be order through the US Mint online store at:
Or by calling 1-800-USA-MINT (872-6468). Hearing- and speech-impaired customers with TTY equipment may call 1-888-321-MINT (6468). The rolls are the same price as 2008 issues.
Bronze medals bearing a likeness of the coin also will be available for $3.50.