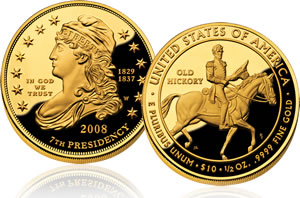 US Mint gold coins have been selling like hot cakes. The American Eagle 2008 inventory is nearly exhausted. Only the 1/2 oz 2008-W Eagle Gold Uncirculated coin remains.
And outside the already released 2009 UHR $20 Double Eagle, there are no Mint signs for when 2009-dated collector gold coins will launch.
With these circumstances and the rising demand for gold coins, one-half ounce, 24-karat First Spouse Gold Coins may get a fresh set of collector eyes looking their way. But is it really the right time to buy into the series?
The coins have several things going for them, in addition to their numismatic appeal:
First and foremost (and already discussed), it is slim pickings for other choices.

First Spouse Coin Prices are just slightly more than the sole remaining 1/2 oz 2008-W Eagle Gold Uncirculated coin (Proof at $629, uncirculated at $616 and the gold eagle at $600.)

Point three adds to point two. The coins are more scarce compared to other Mint gold collectible options, as the latest First Spouse coin sales figures show.

Throwing the history, uniqueness, beauty, etc. of the series aside, the gold content to coin price margins are lower than ever due to the sudden rise in precious metal prices. Simply put, the coins are looking more attractive from a price perspective as their gold value alone is worth more.
If none of these factors are compelling, there is another consideration. To determine prices for the First Spouse Coins, the Mint's pricing policy takes into account the average London Fix price between the Thursday a.m. Fix to the Wednesday a.m. Fix.
The $950 an ounce threshold has already been breached. First Spouse Coin prices will automatically rise $25 each on Thursday morning if gold doesn't drastically retreat to below $950 for several days. And if gold moves quickly and hard above $1,000 an ounce in the remaining days (less likely), each coin price could rise by $50.
In short… while they are still available from the Mint, there may not be a better time to purchase a 2008 First Spouse Coin.
What do you think? Share your thoughts in the Comments below.