A new Royal Canadian Mint $1 circulation coin pays tribute to the Toronto Maple Leafs® centennial anniversary with a design showcasing the team's logo and two facing hockey sticks.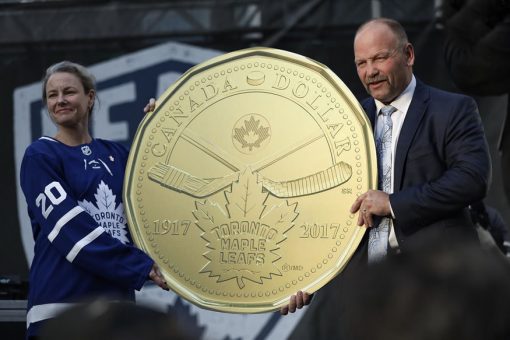 The commemorative coin was unveiled Oct. 7 on Maple Leaf Square by Toronto Maple Leafs alumnus Wendel Clark and Royal Canadian Mint President and CEO Sandra Hanington. Five million of them are now starting to circulate.
"The Mint is proud to recognize the tremendous legacy of the Toronto Maple Leafs with a special one-dollar circulation coin celebrating their 100th anniversary," Hanington said. "Leafs fans across the country can now look forward to finding one of these special coins in their change and collecting it as a piece of Canada's glorious hockey history."
Designed by Canadian artist Steven Rosati, the dollar's reverse or tails side depicts the Maple Leafs' logo flanked by classic wood and modern composite hockey sticks. The Mint's security leaf is positioned between the two sticks. The sticks along with engraved dates of 1917 and 2017 are meant to recognize the team's 100-year history, according to the Mint.
Other reverse inscriptions include CANADA and DOLLAR, which are separated by a depiction of a hockey pot, and SR for the artist's initials.
Coin obverses show Susanna Blunt's effigy of the Queen with surrounding inscriptions of ELIZABETH II and D G REGINA.
The Royal Canadian Mint has also issued related collector products, including specially wrapped rolls of the $1 coin and differently designed $3 and $20 silver coins. For more information about them, visit mint.ca/leafsnation.