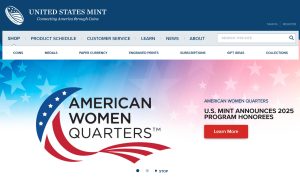 The United States Mint announced the five women to be honored during the fourth and final year of their American Women Quarters™ Program.
Depictions of Ida B. Wells, Juliette Gordon Low, Dr. Vera Rubin, Stacey Park Milbern, and Althea Gibson will appear on the reverse (tails side) of the 2025 quarters.
"I am pleased to announce the final five of the 20 remarkable women we have featured in the American Women Quarters Program," said Mint Director Ventris C. Gibson. "It's a privilege for the Mint to connect America through coins, and to tell our nation's story through honoring the women in this amazing program. The pioneering women we have recognized are among the many in our nation's history who have made significant contributions and championed change in their own unique way."
Authorized under Public Law 116-330, the four-year series of quarters celebrate women for their important accomplishments and contributions to the United States and its development.
U.S. Mint descriptions for the five American women honored in 2025 follow:
Ida B. Wells was a pioneering investigative journalist, suffragist, and civil rights activist, who co-founded the National Association for the Advancement of Colored People (NAACP). Wells used her powerful voice to speak out against and investigate lynching and other social injustices against Black people. She traveled across the nation and internationally, shedding light on state-sanctioned violence, despite dangers she faced. She was also an active participant in the women's club and suffrage movements and later engaged in social work in the growing city of Chicago.

Juliette Gordon Low founded the Girl Scouts organization in America on March 12, 1912, in Savannah, Georgia, envisioning an organization that was accessible to girls, regardless of differences – a place where girls could develop leadership and advocacy skills to better their lives, as well as nurture their strengths and passions. She devoted her life to promoting and growing the Girl Scouts to the international organization it is today with nearly two million adult and girl members worldwide. Low personally embodied many of the traits that are found throughout Girl Scouting. She founded a movement that prepared girls for leadership eight years before women gained the right to vote in the U.S. and emphasized civic responsibility, motivating girls to make their communities better places through service.

Dr. Vera Rubin was a trailblazing astronomer who pioneered work on galaxy rotation. Her observations provided the first persuasive evidence of dark matter, a major scientific discovery that transformed our understanding of the universe. During the 1970s, Dr. Rubin's work produced clear observational evidence that confirmed the vast majority of the mass in the universe is invisible. Early in her career, Rubin struggled to gain recognition as a female astronomer in a male-dominated field, and throughout her career she fought to bring down barriers to research that women face due to sexism. In addition to her research, Rubin mentored other women astronomers and fought for gender parity in science. Rubin pushed for representation of women on scientific committees, as conference speakers, and as professors.

Stacey Park Milbern was a visionary leader and powerful activist for people with disabilities. Born with congenital muscular dystrophy, she was introduced to disability rights history as a teenager where she found her sense of community and terrific passion for activism. The Governor of North Carolina appointed her to the statewide Independent Living Council and Commission for the Blind. She was instrumental in the writing and passage of the North Carolina law requiring that a disability curriculum be taught in schools. She also co-founded the disability justice framework, focused on serving marginalized communities. Her visionary speeches and online writings inspired empowerment, inclusiveness, and interdependence. She directly supported people with disabilities transitioning from institutional care to living independently. In 2014, President Obama appointed her to the President's Committee for People with Intellectual Disabilities. During the COVID-19 pandemic and climate emergencies, Milbern raised awareness of dangers threatening access to lifesaving care. She formed a mutual aid network to provide critical resources to disabled people isolated by shelter-in-place orders.

Althea Gibson was a trailblazing multi-sport athlete who accomplished an impressive list of firsts throughout her athletic career. As the first black athlete to break the color barrier at the highest level in tennis, Gibson won 11 Grand Slam titles by the end of the 1950s, including multiple championships at Wimbledon, the U.S. Open, and the French Open in both singles and doubles. She was voted the 1958 Female Athlete of the Year by the Associated Press, and was inducted into the International Tennis Hall of Fame and the International Women's Sports Hall of Fame. Not content with one sport, she also became the first Black player to compete in the Women's Professional Golf Tour.
In total, 20 unique American women will be celebrated on the quarters from 2022 to 2025. Women honored in 2022 include Maya Angelou, Dr. Sally Ride, Wilma Mankiller, Adelina Otero-Warren, and Anna May Wong. Women featured in 2023 include Bessie Coleman, Edith Kanaka'ole, Eleanor Roosevelt, Jovita Idar and Maria Tallchief. Women celebrated in 2024 include Reverend Dr. Pauli Murray, the Honorable Patsy Takemoto Mink, Dr. Mary Edwards Walker, Celia Cruz, and Zitkala-Ša.
In accordance with Public Law 116-330, the Secretary of the Treasury must select the women to be honored following consultations with the Smithsonian Institution's American Women's History Initiative, the National Women's History Museum, and the Congressional Bipartisan Women's Caucus.
Depictions of the women on the coins are created by U.S. Mint artists and artists from the Mint's Artistic Infusion Program, with their eventual candidate designs reviewed by the Citizens Coinage Advisory Committee (CCAC) and the Commission of Fine Arts (CFA).
Within the series, all the quarters' obverses (heads side) feature a shared portrait of George Washington, originally designed by Laura Gardin Fraser as a candidate entry for the 1932 quarter.