The 2023-W $100 American Liberty Gold Coin and 2023-P American Liberty Silver Medal debut today from the United States Mint, continuing the multi-year Liberty series that began in 2015.
Both collectibles share the same designs created for this year's program, and both feature an attractive proof finish.
Produced at the West Point Mint, the gold coin possesses the added appeal of being struck in high relief and containing 1 ounce of .9999 fine gold, boasting a low mintage of 12,500. Conversely, crafted at the Philadelphia Mint, the medal is minted using 1 ounce of .999 fine silver and holds a mintage of 75,000.
Both are part of the U.S. Mint's program of American Liberty products. The program is distinguished by its distinctive design approach: the obverses (heads side) feature modern interpretations of Liberty, while the reverses (tails side) depict eagles.
Prior to this year's release, the program featured five gold coins and four distinct silver medals. Past gold coins include the:
As for medals, there are the:
2023 American Liberty Gold Coin and Silver Medal Designs
Created by U.S. Mint Artistic Infusion Program Designer Elana Hagler and sculpted by U.S. Mint Chief Engraver Joseph Menna, the obverse design of the new products feature a bristlecone pine, thought to be the oldest living organisms on Earth, living up to 5,000 years. Bristlecone pines thrive in locations where other plants struggle, frequently being the first species to recolonize the land following significant events like volcanic eruptions or glacial runoff.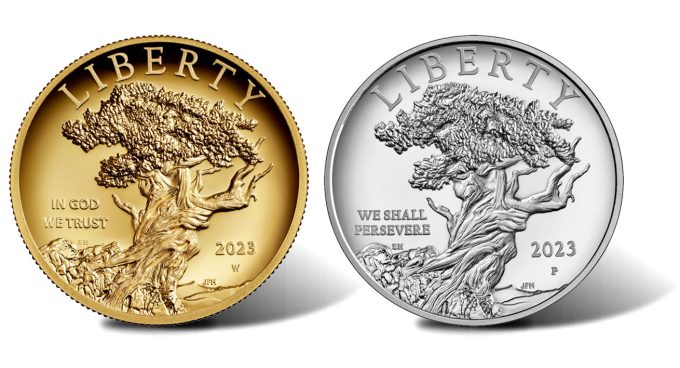 The obverse of both the coin and medal features "LIBERTY" and "2023." However, there are differences between them. The coin includes "IN GOD WE TRUST" and a "W" mint mark, while the medal showcases "WE SHALL PERSEVERE" and a "P" mint mark.
Created by John P. McGraw, a U.S. Mint Artistic Infusion Program designer, the reverses depict a young bald eagle standing on a rocky outcropping, captured just moments before taking flight. The reverse of both the gold coin and the silver medal features the inscription "UNITED STATES OF AMERICA." Additionally, the coin includes "1 OZ., .9999 FINE GOLD, $100, and E PLURIBUS UNUM."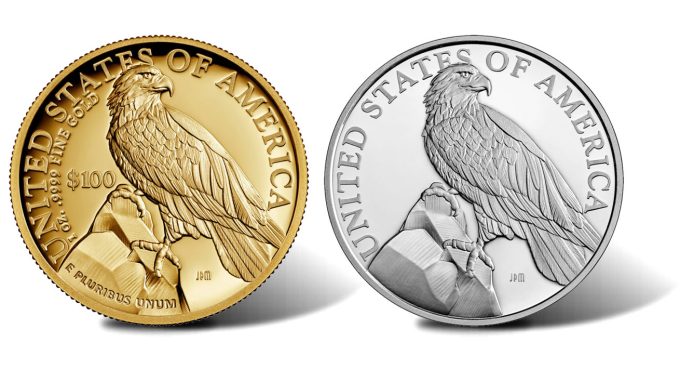 Each gold coin has a reeded edge, while the silver medal's edge is flat.
2023 American Liberty Coin and Medal Specifications
| | | |
| --- | --- | --- |
| | High Relief Gold Coin | Silver Medal |
| Denomination: | $100 | n/a |
| Finish: | Proof | Proof |
| Composition: | 99.99% Gold | 99.9% Silver |
| Weight: | 1.000 troy oz. | 1.000 troy oz. |
| Diameter: | 1.205 in/ 30.61 mm | 1.598 inches (40.60 cm) |
| Edge: | Reeded | Plain |
| Mint and Mint Mark: | W | P |
Price and Ordering
The 2023 American Liberty Gold Coin is initially offered at $2,865, with this price subject to change weekly based on fluctuations in the gold market. The 2023 American Liberty Silver Medal is sold for $82.
Starting at noon ET, both may be ordered from the Mint's page of American Liberty products.
Initial household order limits are in place for the gold coin and silver medal, set at three and five, respectively