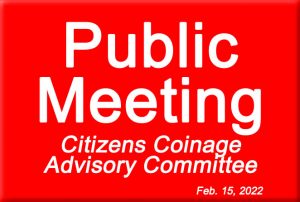 The Citizens Coinage Advisory Committee (CCAC) will hold a meeting by teleconference on Feb. 15 to review and discuss candidate designs for the 2023 American Liberty Gold Coin and Silver Medal.
The CCAC is tasked with advising the Secretary of the Treasury on themes and designs pertaining to all United States coins and medals.
Introduced in 2015, the United States Mint's series of American Liberty coins and medals celebrate modern interpretations of the concept of American liberty. The U.S. Mint's most recent American Liberty gold coin was released in 2021 and depicts a bucking horse. The medal version of this coin is scheduled for release this summer.
The series' gold coins contain .9999 fine 24-karat gold and have weighed from to 0.1 to 1 troy ounce. The medals are minted in 99.9% fine silver and have weighed from 1 to 2.5 troy ounces.
CCAC Meeting Time and Public Listening Option
The CCAC meeting on the 15th will begin at 1:00 p.m. (EST).
Members of the public may dial in to listen to the meeting at (888) 330-1716 and using access code: 1137147.
For members of the public, this teleconference meeting is for "listen purposes only" — no comments or questions will be taken, and phones must be muted. Instead, those interested in offering matters for the CCAC's consideration are invited to submit them by email to info@ccac.gov.