The United States Mint has unveiled several dozen candidate designs for the high-relief 2023 American Liberty Gold Coin and Silver Medal. These designs are being reviewed today, Feb. 15, by the Citizens Coinage Advisory Committee (CCAC) and they will be considered by the Commission of Fine Arts (CFA) on Feb. 17.
Introduced in 2015, the U.S. Mint's biennial program of American Liberty coins and medals celebrate modern interpretations of the concept of American liberty.
The Mint in 2023 will issue 1-ounce 24k gold coin and a .9999 fine silver medal. The Mint is also considering a 1/10-ounce 24k gold coin.
U.S. Mint descriptions and images of the 2023 American Liberty candidate designs follow.
Obverse Candidate Designs – 2023 American Liberty Gold Coin and Silver Medal
Candidate designs for the 2023 American Liberty 24k Gold Coin and Silver Medal obverse feature the theme of "Liberty through Perseverance."
Required inscriptions for the gold coin obverse designs are "Liberty," "In God We Trust," and "2023." The 1/10 oz. versions will include the same inscriptions, with placement accounting for the smaller planchet. The corresponding silver medal obverse will have "2023," with the optional inscription "Liberty." Designs are presented side-by-side in both their one ounce gold coin and one ounce silver medal versions.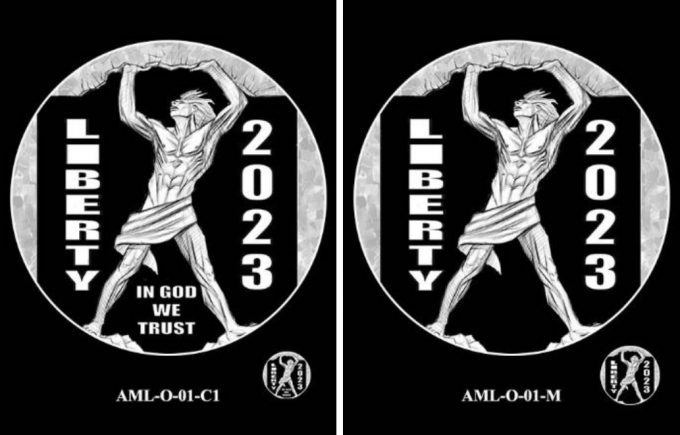 AML-O-01 shows a stylized, sculptural figure embodying the perseverance that achieving and maintaining liberty requires. He is framed by a stone architectural element which, within the circle, is intended to evoke the classical image of Leonardo da Vinci's the Vitruvian Man.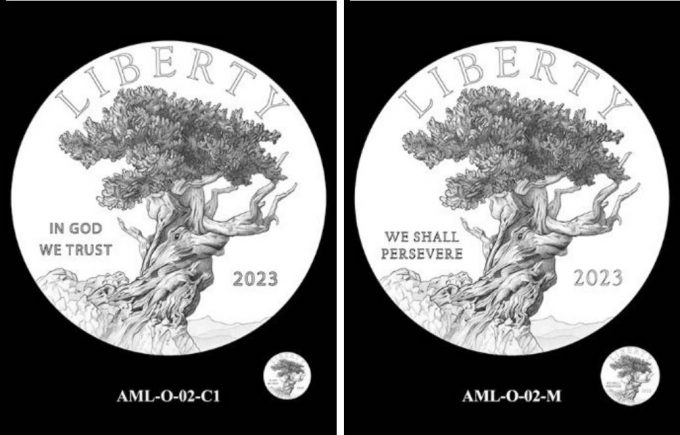 AML-O-02 features a bristlecone pine, a species native to California, Nevada, and Utah, thought to be the oldest living organisms on Earth, living up to 5,000 years. Bristlecone pines grow in places where other plants cannot, and are often the species that is first to repopulate the land after cataclysmic changes such as a lava run or glacial runoff. The silver medal has the additional inscription "WE SHALL PERSEVERE."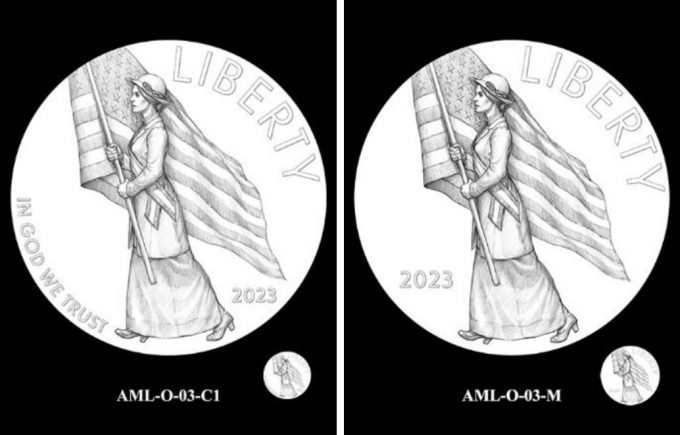 AML-O-03 features a suffragist, dressed in the style to recall the 1913 Woman Suffrage Procession in Washington D.C. and other demonstrations of the period. With her confident stride, she represents all of the women who assisted in the efforts to promote voting rights. Her resemblance to the famous Walking Liberty coin is intentional, casting this suffragist as a kind of real-life depiction of liberty.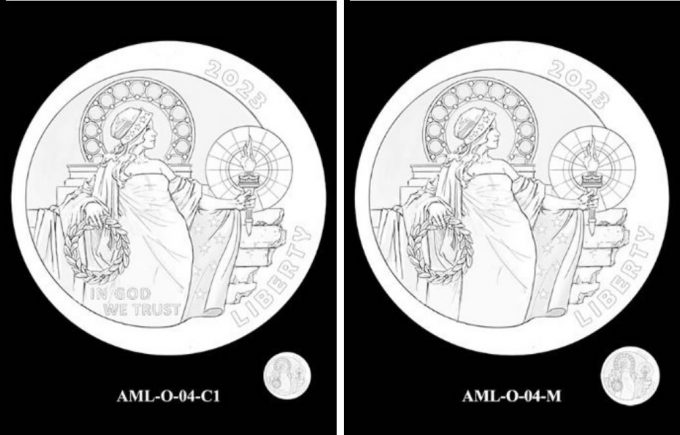 AML-O-04 depicts Liberty draped in the American flag, wearing her Liberty cap to represent freedom.
In her hand she grips a laurel wreath, symbolizing victory. She tends to a sturdy but unfinished rampart and holds her torch aloft as a beacon to lighten even the darkest night.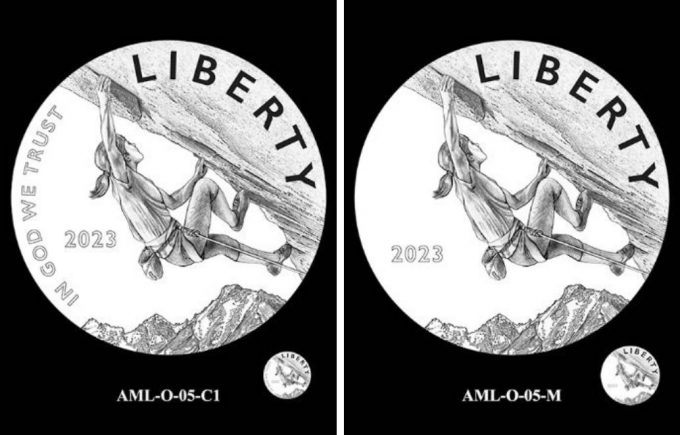 AML-O-05 depicts a young rock climber ascending a steep precipice. Her goal of reaching the top seems nearly unattainable, but with grit and perseverance she remains determined to reach her destination. The image represents the many Americans who continue to confront challenges in pursuing and securing liberty.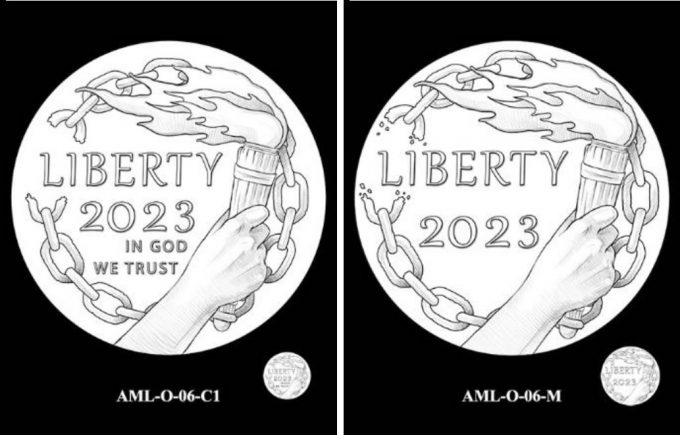 AML-O-06 depicts a hand carrying the Torch of Liberty in an act of perseverance. In its wake, symbolic chains confining the design have been broken, further underscoring the goal of the torch bearer's efforts.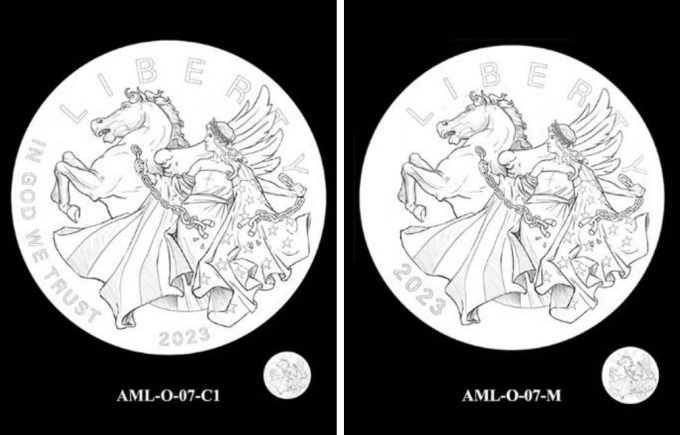 AML-O-07 portrays Liberty, draped with the American flag, with her laurel crown of victory upon her head. Through strength and perseverance, she breaks a chain representing the challenges to liberty. A winged horse guides her journey to freedom.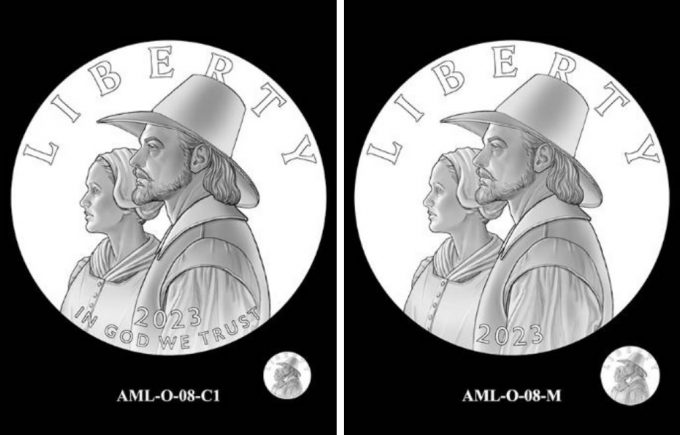 AML-O-08 presents two Pilgrims in profile. Many who came to the New World endured persecution in Europe, a difficult journey overseas, and harsh conditions on the new continent, in the pursuit of liberty.

AML-O-09A and AML-O-09B show the Pilgrims at their landing point looking inland (to the west) and encouraging one another as the Mayflower sails away.

In designs AML-O-10A and AML-O-10B, Liberty stands tall next to the Liberty Bell, which has been fractured but repaired, a symbol of endurance. She holds an olive branch representing persevering peace. These designs correspond to AML-R-10A and AML-R-10B, carrying over elements that echo Liberty's flowing hair and the woodgrain of the Liberty Bell.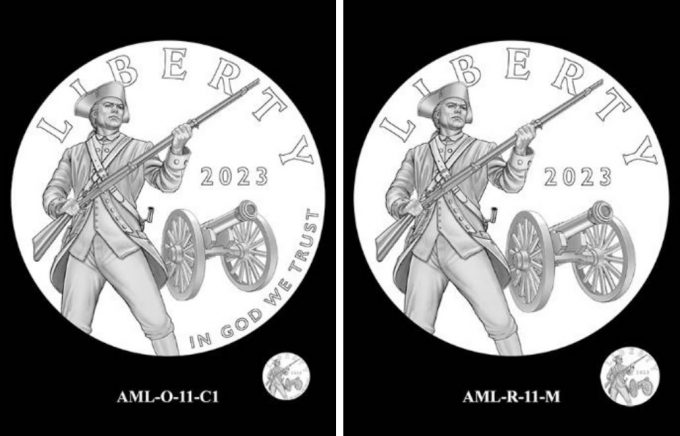 AML-O-11 portrays an American colonist persevering under the oppressive rule of King George III. This small, underfunded army of soldiers and militiamen overcame the greatest army in the world to earn their liberty.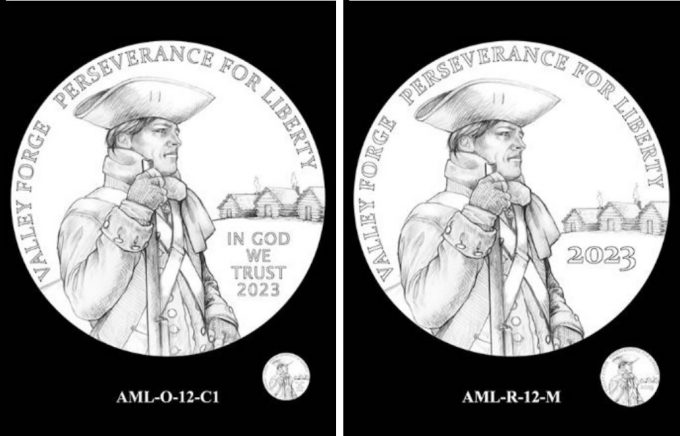 AML-O-12 portrays the Americans who served in George Washington's Continental Army. They endured illness and lack of food at the winter encampment at Valley Forge in 1777, among many other obstacles, in their fight for American Liberty. The design includes the additional inscription "PERSEVERANCE FOR LIBERTY."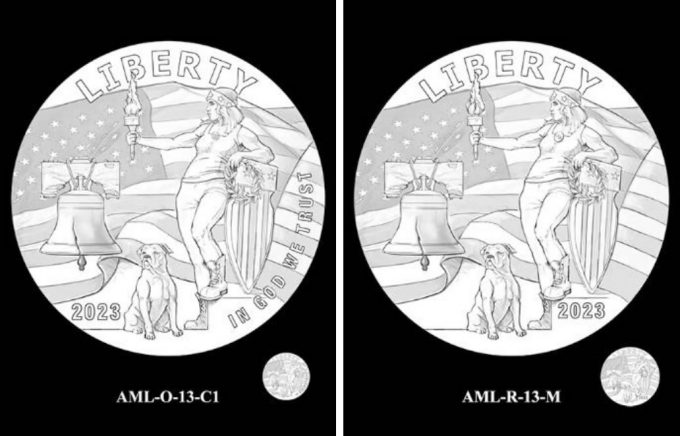 AML-O-13 presents a modern interpretation of Liberty as a "hardworking, salt of the earth, strong American." She exudes a toughness forged by overcoming the hardships of everyday life. Powerful and patriotic, she holds her torch aloft, with her shield for protection, laurel wreath for victory, and her American Bulldog, a stout companion.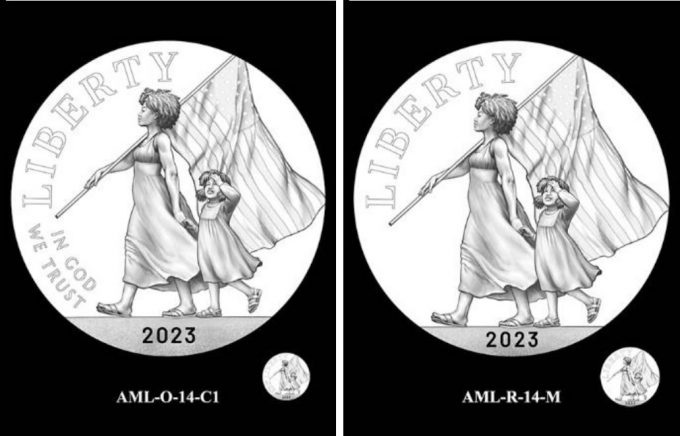 AML-O-14 depicts a young African American mother holding the hand of her daughter. She carries a large American flag, the same version of the American flag which was used during the suffragist marches in 1914. The child's posture suggests that the path ahead is bright, though it is hard to discern so she shields her eyes.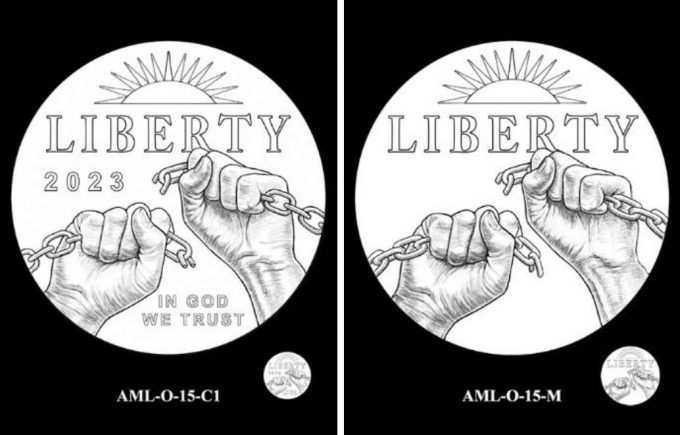 In AML-O-15, two hands hold the broken pieces of a chain that represents restrictions to liberty. Chains are not broken easily and require steady, unyielding pressure.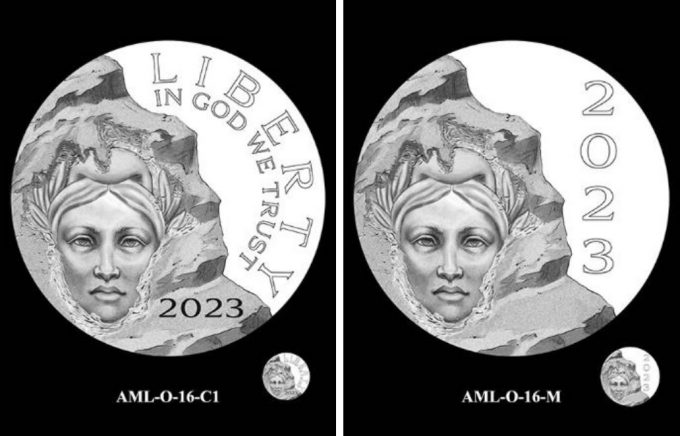 In AML-O-16 Liberty is revealed in stone, demonstrating how the American people participate in sculpting our own image of liberty.
Reverse Candidate Designs – 2023 American Liberty Gold Coin and Silver Medal
Reverse designs all depict an American eagle. Required inscriptions for the gold coin are "United States of America," "E Pluribus Unum," "1 oz.," ".9999 Fine Gold," and the denomination, "$100." One tenth ounce designs will feature the same inscriptions, but with "1/10 oz." weight and "$10" denomination. The corresponding silver medal may optionally include the inscription "United States of America." Designs are presented in both their gold coin and silver medal versions.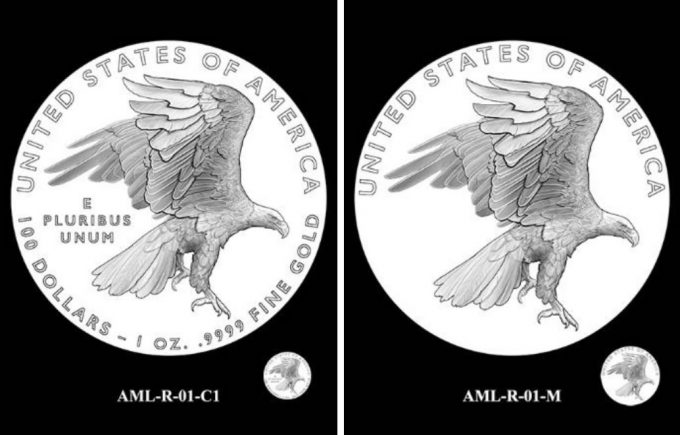 AML-R-01 shows an American eagle preparing to land.

AML-R-02A and AML-R-02B feature an eagle calling out.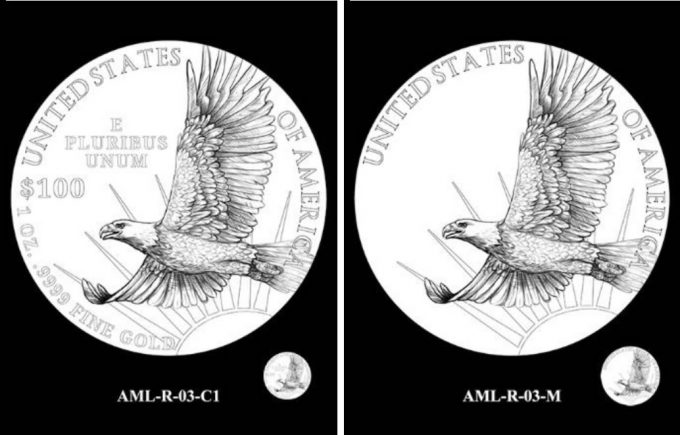 AML-R-03 shows an eagle in flight, while the sun peers over the horizon.

AML-R-04A and AML-R-04B depict a large stylized American eagle flanked by dual coastlines. The image references the geography of America and invokes the song "America the Beautiful," as the eagle flies from "sea to shining sea."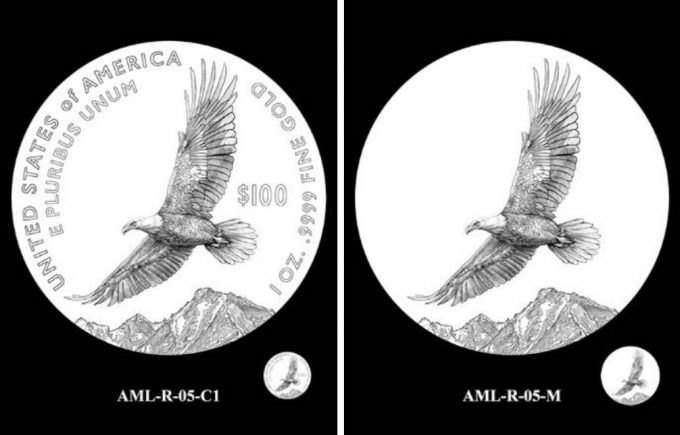 AML-R-05 depicts an American Bald Eagle soaring high above the same mountain range seen in the design AML-O-05. The image echoes the climber's sense of exhilaration upon reaching the top, like an eagle soaring high above the ground.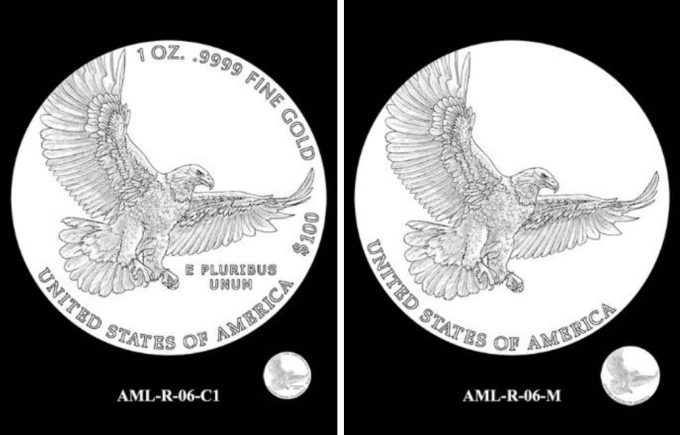 AML-R-06 depicts an eagle as it prepares to land.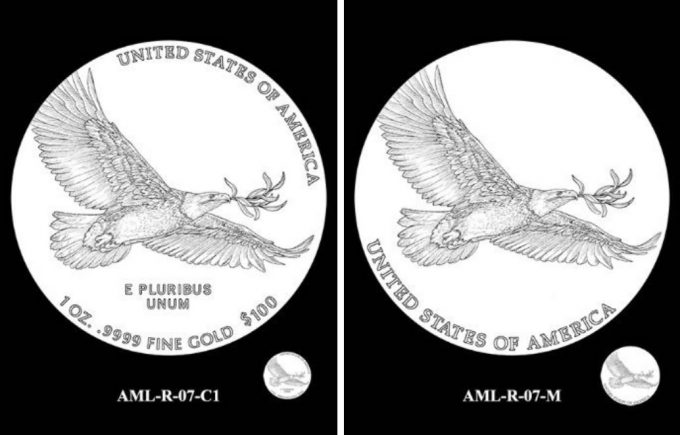 AML-R-07 features an eagle in flight, holding an olive branch.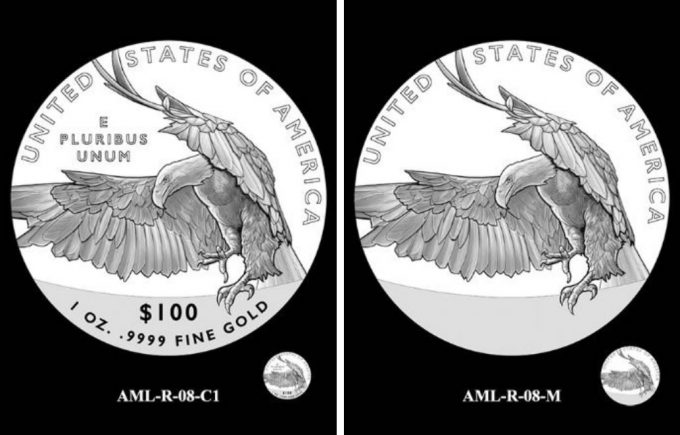 AML-R-08 features an eagle landing with wings held aloft.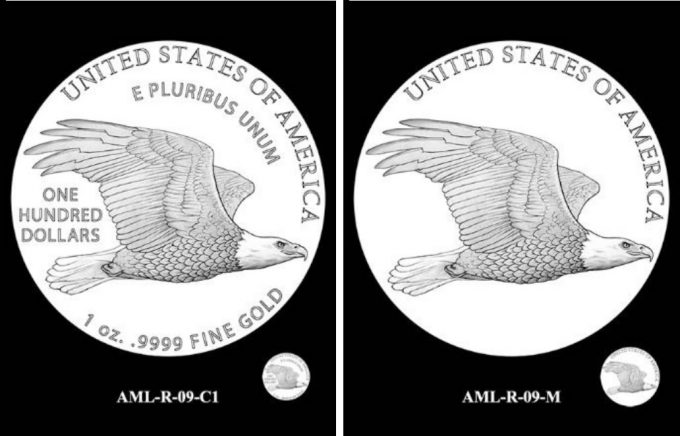 AML-R-09 features a soaring eagle.

AML-R-09A and AML-R-09B depict an eagle clutching an olive branch while perched on an arrow. The design uses classic iconography and gesture to depict dignity, strength, and peace. AML-R-09A also features an abstract sky pattern that intentionally echoes Liberty's flowing hair from AML-O-09A and AML-O-09B, and recalls the stripes on the American flag.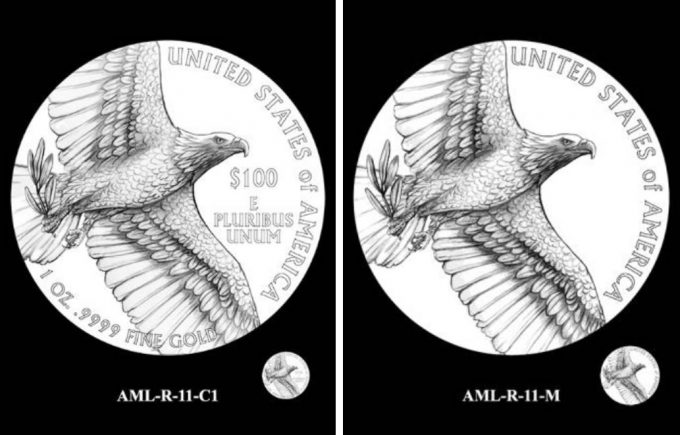 AML-R-11 portrays an upward view of an eagle in flight, holding an olive branch.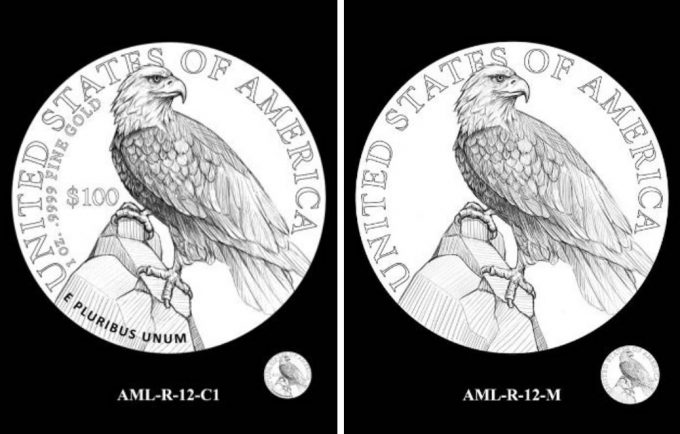 AML-R-12 depicts the moments before a bald eagle's first attempt at flight. A young bald eagle stands on a rocky outcropping, looking over its shoulder just before finding the courage to fly.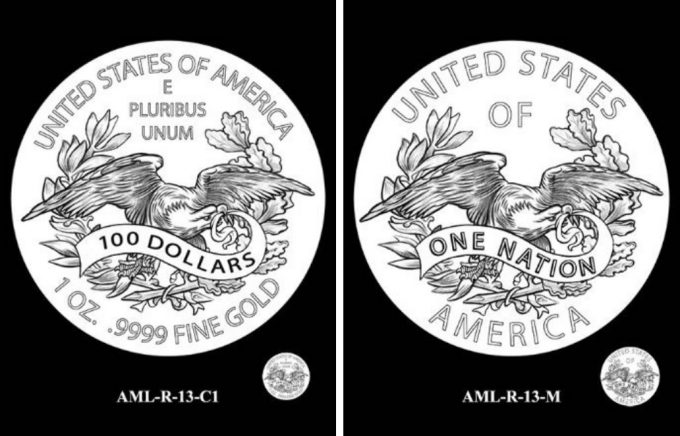 AML-R-13 features a traditionally stylized American eagle boldly poised to defend its nation's liberty.
Editor update 1 (Feb. 15, 3:06 p.m. ET): The CCAC recommended obverse design AML-O-02 paired with reverse design AML-R-12, which are shown below.
Editor update 2 (Feb. 17, 11:35 p.m. ET): The CFA recommended the same designs, shown below, as the CCAC.