The United States Mint released images of their 2023 American Liberty Gold Coin and Silver Medal. The 1-ounce, .9999 fine gold coin and the 1-ounce, .999 fine silver medal are scheduled for release this "summer."
Each is produced in a collectible finish of proof, which features mirror-like backgrounds and frosted foregrounds, with the gold coin struck at the West Point Mint and the silver medal struck at the Philadelphia Mint. The gold coin is also minted in high relief.
Both are part of the Mint's program of American Liberty products. Coins and medals from the program are noted for their unique design where obverses (heads side) carry modern interpretations of Liberty and reverses (tails side) depict eagles.
Designs for the 2023 pairing were selected from among several dozen candidates.
Created by U.S. Mint Artistic Infusion Program Designer Elana Hagler and sculpted by U.S. Mint Chief Engraver Joseph Menna, the obverse design features a bristlecone pine, thought to be the oldest living organisms on Earth, living up to 5,000 years. Bristlecone pines grow in places where other plants cannot, and are often the species that is first to repopulate the land after cataclysmic changes such as a lava run or glacial runoff.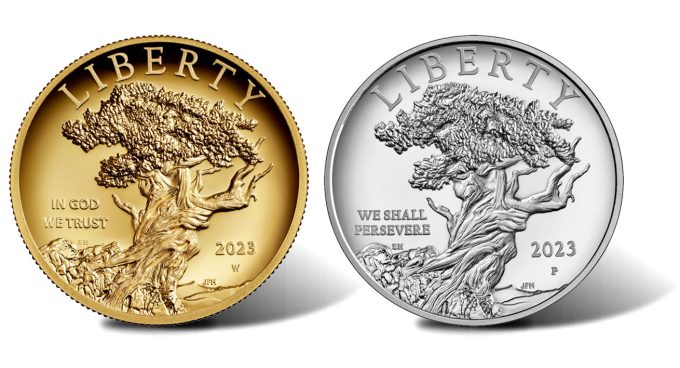 The gold coin and silver medal share obverse inscriptions of LIBERTY and 2023. In additional but different inscriptions, the coin has IN GOD WE TRUST and a W mint mark while the medal has WE SHALL PERSEVERE and a P mint mark.
Created by U.S. Mint Artistic Infusion Program Designer John P. McGraw, reverses depict a young bald eagle standing on a rocky outcropping moments before it takes flight.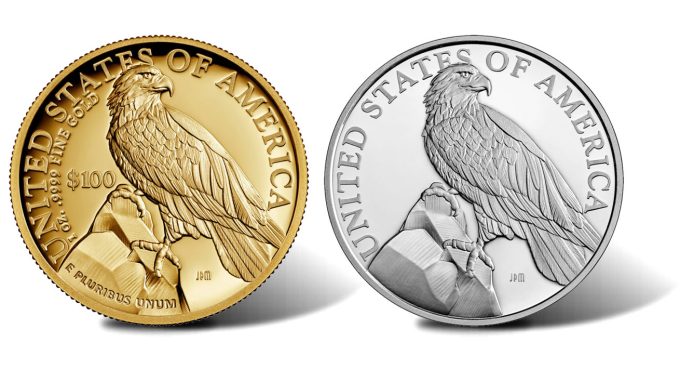 Reverse inscriptions for the gold coin include UNITED STATES OF AMERICA, 1 OZ., .9999 FINE GOLD,  $100, and E PLURIBUS UNUM while those for the silver medal include UNITED STATES OF AMERICA.
In another difference between the two, the gold coin has a reeded edge while the silver medal's edge is flat.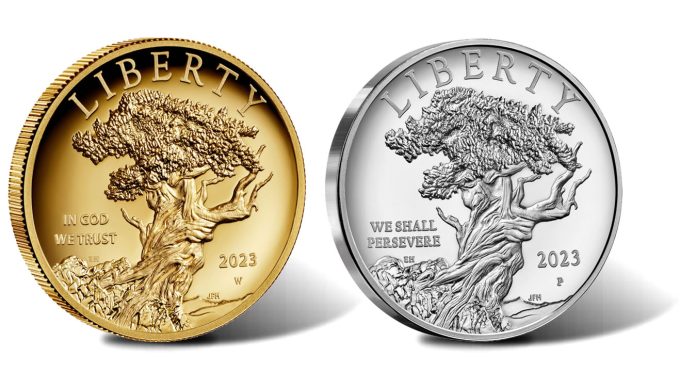 Pricing for the 2023-W American Liberty Gold Coin will be determined by market conditions and the Mint's pricing matrix for precious metals products. The 2023-P American Liberty Gold Coin Silver Medal will be $82.