The United States Mint is marking 225 years since its establishment. As part of a year-long celebration, today the government agency releases its 2017-W $100 American Liberty High Relief Gold Coin.
The 1-ounce, .9999 fine 24-karat gold coin is available for $1,640.00 beginning at noon Eastern Time. Struck in collector proof quality at the West Point Mint, its mintage is limited to 100,000 pieces.
Coin Designs & Specifications
The coin's obverse or heads side depicts Liberty as an African-American woman, facing left, wearing a crown of stars in homage to the bronze Statue of Freedom topping the dome of the U.S. Capitol.
| | |
| --- | --- |
| The coin's crown of stars pays homage to the Statue of Freedom | The crown of stars on the Statue of Freedom atop the U.S. Capitol dome |
U.S. Mint Artistic Infusion Program (AIP) Designer Justin Kunz created the design and it was sculpted by U.S. Mint Sculptor-Engraver Phebe Hemphill. Their initials, JK and PH, also appear on the obverse along with inscriptions of "LIBERTY," "1792," "2017," and "IN GOD WE TRUST."
Edges of the high-relief gold coin show raised lettering of 225TH ANNIVERSARY in three places with a five-point star before and after each instance.
Reverses (tails side) depict an eagle in flight. Inscribed around the eagle are "UNITED STATES OF AMERICA," "E PLURIBUS UNUM," "1OZ .9999 FINE GOLD," "100 DOLLARS," and a "W" mintmark for the U.S. Mint facility in West Point.
U.S. Mint AIP Designer Chris Costello created the artwork and U.S. Mint Sculptor-Engraver Michael Gaudioso executed its use for coins. Their initials, CTC and MG, also appear on the reverse.
225th Anniversary Gold Coin Specifications
| | |
| --- | --- |
| Denomination | US $100 |
| Finish | Proof |
| Composition | 99.99% Gold |
| Diameter | 1.205 inches (30.61 mm) |
| Weight | 1.0000 troy oz. (31.108 grams |
| Edge | Lettered |
| Mint | U.S. Mint facility at West Point |
| Mintmark | W |
Ordering and Variable Pricing
To order, visit the U.S. Mint's website page for the collectible which is located here. It may also be purchased by calling 1-800-USA-MINT (872-6468). There is no household order limit.
Pricing of the coin may be adjusted weekly depending on market conditions. Its current price is based on LBMA gold that is within $1,250.00 and $1,299.99 an ounce. (See the coin's pricing schedule.)
A custom designed, black wood presentation case houses the encapsulated coin. A special 225th anniversary booklet which contains the Certificate of Authenticity also ships with the package.
Biennial 24-karat Gold Coin Series
This gold piece extends the Mint's high-relief $100 issues, with the first release in 2015 capturing sales of more than 49,000. Two companion silver medals followed in 2016 and quickly sold out.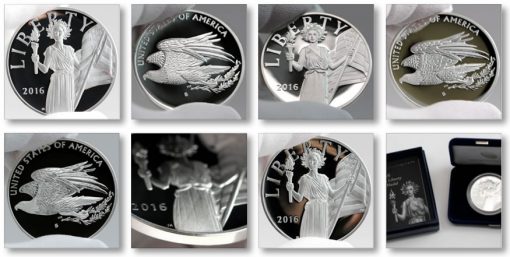 It is actually the first release in a new design series that, according to the Mint, will feature "allegorical Liberty in a variety of contemporary forms-including designs representing Asian-Americans, Hispanic-Americans, and Indian-Americans among others-to reflect the cultural and ethnic diversity of the United States." Coins of the program are scheduled to be issued every two years.
In addition, medals struck in .999 silver with the same designs as the gold coins will also be available.
This article was edited to accurately reflect the number of stars around the coin's edge.