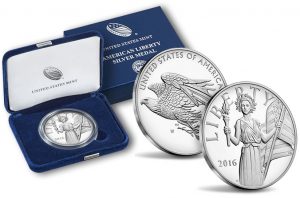 Collectors may need to act fast today, Aug. 23, if they want to get 2016 American Liberty Silver Medals. They go on sale directly from the United States Mint beginning at noon Eastern Time (ET).
Demand is expected to be high for the two Liberty medals that share the same designs as found on last year's 2015 $100 American Liberty High Relief Gold Coin. Two versions will be available with one from the U.S. Mint at West Point and one from the U.S. Mint at San Francisco.
Mintage is limited with only 12,500 available of each option. A household limit of 2 medals from each minting facility also applies.
Medal Designs & Specifications
Medal obverses (heads side) feature a rendition of Liberty meant to symbolize the ideals of liberty, courage, and hope. United States Mint Artistic Infusion Program (AIP) designer Justin Kunz created the image and United States Mint Sculptor-Engraver Phebe Hemphill sculpted it. LIBERTY, 2016 and the artist's and sculptor's initials finish the design.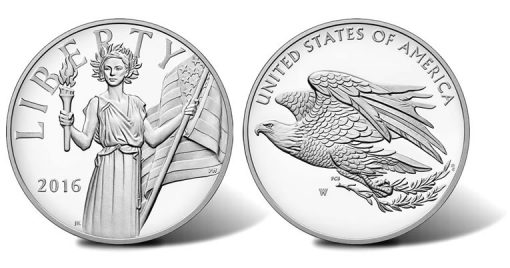 Found on their reverse is the image of an American eagle rising in flight. The eagle is gripping a branch in its talons, completing the "embodiment of freedom" design. Artistic Infusion Program Designer Paul C. Balan designed the reverse with its sculpting the work of United States Mint Sculptor-Engraver Don Everhart. An inscription reads UNITED STATES OF AMERICA with artist and sculptor initials joining the appropriate mintmark of either 'W' for West Point or 'S' for San Francisco.
The medals are struck on the same silver blanks as American Silver Eagles. Their specifications include:
Finish:
Proof
Composition:
99.9% Silver
Content
.999 Fine Silver (31.072 grams)
Balance Copper
Diameter:
1.598 inches (40.60 mm)
Weight:
1.000 troy oz. (31.103 grams)
Edge:
Smooth
Mint:
West Point or San Francisco
Mintmark:
W or S
Ordering
Order 2016 American Liberty Silver Medals from the U.S. Mint for $34.95 each. The Mint's product pages for the two are here and here.
Each medal is encapsulated and presented in a blue velvet presentation case. A certificate of authenticity is also included.
Update: Both medals are "currently unavailable." The "W" medal was unavailable within 6 minutes of launching. The "S" medal was unavailable within 8 minutes of going on sale. The U.S. Mint said the medals' status would remain as unavailable until all order reconciliations and order cancellations have been processed.