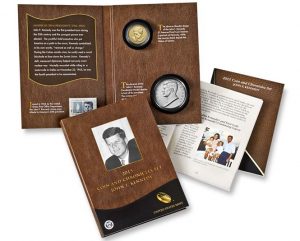 Not a lot of the 2015 John F. Kennedy Coin & Chronicles Sets are left, based on early figures from the United States Mint.
Sales of the third 2015-dated Coin & Chronicles Set kicked off today at noon Eastern Time. Limited to 50,000 sets, half of them were claimed in the first 10 minutes and less than 10,000 remained after the first hour.
"The Mint sold 25,000 sets via its website in the first 10 minutes of sales," Tom Jurkowsky, director of the U.S. Mint's Office of Corporate Communications, said in an e-mail. "Of those orders, approximately 78% were via desktop computers, 16% via the Mint's new mobile app and 6% via social media … After the first hour, sales totaled over 40,000 units."
Jurkowsky said that the Mint will start shipping the first 25,000 sets immediately and expects all customer orders will be fulfilled by early October.
Ordering them went smoother than when the 2015 Coin and Currency set launched about three week ago, though some CoinNews readers reported webpage errors and slowness in the very early going.
Priced at $57.95, sets include a 2015-P Reverse Proof John F. Kennedy Presidential $1 Coin, a one-ounce .999 fine Kennedy silver medal, and a 1964 5-cent Kennedy U.S. postage stamp.
Sets remain available on the Mint's online store at this writing but they now have an in-stock date of Oct. 15. There is a restriction of 2 sets per household.