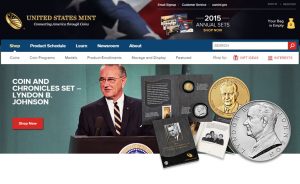 Coin and Chronicles Sets featuring Lyndon B. Johnson lasted longer than the ones for Harry S. Truman and Dwight D. Eisenhower, but not by much.
Limited to 25,000 with 2 allotted per household, the sets went on sale today at noon EST. By 3:57 p.m., or about 4 hours, the available inventory had been depleted according to the United States Mint.
"All accepted orders will be processed and fulfilled on a first-in, first-served basis," U.S. Mint spokesman Michael White said in an email. "The product inventory is at the fulfillment center for immediate shipment to customers.
The earlier 2015 sets for Truman and Eisenhower sold out in about 15 minutes. They each had lower limits of 17,000. There was one other issue from the product line this year, the set featuring John F. Kennedy. It took about two weeks to sell out at its higher 50,000 limit, although more than 45,000 sold within its first 12 hours on sale.
Early ordering went well today, according to customer comments. We noticed a few website timeouts, but browser refreshes pulled everything back on track with minimal delays.
Priced at $57.95, sets include a 2015-P Reverse Proof Lyndon B. Johnson Presidential $1 Coin, a one-ounce .999 fine LBJ silver medal, and a 1973 8-cent Johnson postage stamp.
The set's product page is now showing a status of unavailable with a "Remind Me" button. Those who use the feature can receive an email if ordering reopens due to order cancellations and the like. The Mint said product shipments, returns and exchanges will be monitored daily over the next few weeks.