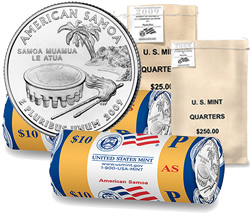 American Samoa quarters are the fourth of six coins to be issued in the 2009 District of Columbia and U.S. Territories Quarters Program, and they are notably the most scarce quarter-dollar in years.
Despite that, they are not the most sought after by collectors. They rank #3 in 2009 sales after Guam and Puerto Rico quarters.
If the United States Mint follows its own precedent, it will stop selling rolls and bags of the American Samoa quarters on Monday morning with the launch of the next commemorative in the series (the US Virgin Islands quarter). Is now the time to buy? Reviewing 2009 quarter mintages and recent sales figures may help answer that question.
Read the rest of this numismatic news article »
{ 0 comments }