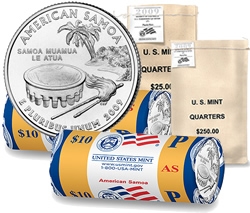 Coin collectors aggressively purchased bags and rolls of American Samoa Quarters during the initial launch week, but totals are slightly lower than the inaugural several day sales of the prior Guam quarter-dollars.
That could change. The US Mint just posted new coin production figures on Monday. American Samoa quarter mintages are actually lower than those of Guam. In fact, they are lowest of any single quarter design in generations, which should make them more desirable to collectors who eye relative scarcity levels.
Coming back to the sales numbers, two-roll sets are shining with 17,539 sold. Philadelphia 100-coin bags are selling slightly better than their Denver counterpart while the opposite is true for the 1000-coin bags.
Over time, collectors may choose to focus more on Denver coins. The scarcest American Samoa quarters are from the Mile-High City with 39.6 million minted. By comparison, 42.6 million were struck in Philadelphia.
The following table contains the latest sales figures as reported by the US Mint:
American Samoa Quarter Sales Figures*


Total
100-coin bag (Philadelphia)
3,693
7,278
100-coin bag (Denver)
3,585
1000-coin bag (Philadelphia)
1,217
2,485
1000-coin bag (Denver)
1,268
Two-roll Set
17,539
17,539
*Figures shown are those for Monday, July 27, through to Sunday, August 2.