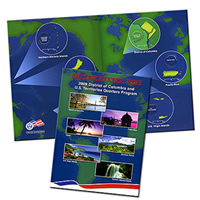 The United States Mint on Tuesday, May 19, will issue the 2009 District of Columbia and U.S. Territories Quarters Program Map for $12.95, plus shipping and handling.
Designed as a teaching aid to identify the locations for each commemorative coin, the program map also includes coin holders for each of the six 2009 quarters.
The map, according to the US Mint, features "colorful photos of scenes from the District of Columbia and the five U.S. territories on the cover and facts about each location on the back panel."
The quarters for this year bear designs honoring:
District of Columbia (DC) – Duke Ellington
Puerto Rico – Isla del Encanto (Island of Enchantment)
Guam – Guahan I Tanó ManChamorro (Guam, Land of the Chamorro)
American Samoa -Samoa Muamua Le Atua (Samoa, God is First)
U.S. Virgin Islands – United in Pride and Hope
Northern Mariana Islands – Latte stone on an island with a Carolinian canoe
The Mint has already released the first two quarter-dollars into circulation. Guam quarters are set to launch on May 26.
At noon (ET) on the 19th, orders may be placed by visiting http://usmint.gov, or by calling the Mint's toll-free number 1-800-USA-MINT (872-321-MINT (6468).