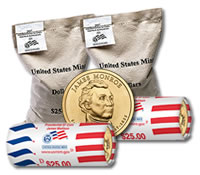 James Monroe Presidential Dollars were ceremoniously launched yesterday at Ash Lawn-Highland, the estate of the President Monroe.
Today at 12:00 noon (ET), Bags and Rolls of new $1 coins went on sale through the United States Mint and the dollar coins officially entered circulation through banks.
Finding presidential $1 coins in circulation or in banks has proven to be a difficult task in many areas of the U.S. and, although a premium is paid, many coin collectors purchase the coins directly from the United States Mint.
Read the rest of this numismatic news article »
{ 5 comments }