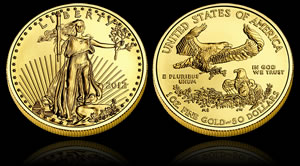 Demand for 22-karat American Gold Eagle bullion coins grew for a second straight month in January. The United States Mint reported sales of 127,000 ounces, marking a gain of 61,500 ounces, or 93.9%, over the previous month.
With that total, the month ranks as the fourth best January in the twenty-six year history of American Eagle program. It is also the highest monthly amount since January 2011 when 133,500 ounces were ordered.
Top Five January Gold Eagle Sales
| | | |
| --- | --- | --- |
| 1 | 1999 | 281,000 |
| 2 | 1987 | 142,500 |
| 3 | 2011 | 133,500 |
| 4 | 2012 | 127,000 |
| 5 | 1998 | 105,500 |
According to the U.S. Mint, the lion's share of orders was in the form of the one ounce size. 84,500 of those were sold. Descending from that amount:
the half ounce American Gold Eagles totaled 49,000 coins or 24,500 ounces,
the quarter-ounce American Gold Eagles came in at 38,000 or 9,500 ounces, and
the tenth-ounce American Gold Eagles reached 85,000 or 8,500 ounces
These totals also show strength across all four Eagles, as sales of:
the one ounce was the best since September,
the half-ounce was the strongest since December 2009,
the quarter-ounce was the highest since June 2010, and
the tenth-ounce was the best since February 2011
The United States Mint started offering 2012-dated bullion American Gold Eagles on January 3, 2012. On that single day, the Mint's authorized purchasers ordered 37,500 ounces which put the coins on track for their respectable monthly total. It should be noted, however, that these initial numbers also included 2011-dated strikes. Last year's half-ounce and quarter-ounce coins were being offered at a discount while remaining inventories of the one ounce and tenth-ounce sizes were being shipped out at a ratio basis of 4:1.
The United States Mint also reported sales of 13,500 for its American Gold Buffalo bullion coin. That was down 6,500 from the previous month. American Gold Buffalo coins differ from their American Gold Eagle counterpart with their pure 24-karat, or .9999 fine gold composition and western heritage designs. The Buffalo and Eagle gold series had combined monthly sales of 140,500 ounces.
Silver bullion coins were also in high demand. The American Silver Eagle bullion coin hit 6,107,000 last month which was the most since the all-time monthly record of 6,422,000 was set in January 2011.
Bullion coins are not sold directly to the public by the U.S. Mint. Instead, they are offered through a network of authorized purchasers who buy them in bulk and then resell them to coin dealers, precious metal dealers and the public for a small premium above the current spot price of the gold contained within them.