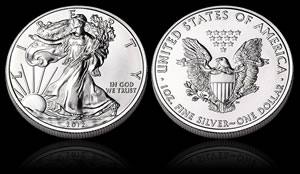 Last month turned energetic for U.S. Mint sales of the American Silver Eagle bullion coin. Barely missing out as the best ever selling month, January now ranks second all-time for the series which dates back to 1986.
Buyers scooped up 6,107,000 Silver Eagles during the month. That was 315,000 away from matching the all-time monthly record of 6,422,000 set in January 2011 and a scant 350,000 away from equaling the combined monthly sales totals from December, November and October.
Demand is often high for American Eagles during the first several weeks of a year when newly dated versions become available. The U.S. Mint released the 2012 American Eagles on the 3rd. On the newness topic, Allen Sykora of Kitco News reports the following:
"This year, we saw the same trend of a huge uptrend in (American Eagle) sales in January," said Erica Rannestad, commodities analyst with CPM Group. "Part of that is dealers replenishing their inventories…I don't see that as abnormal development."
Sykora also quoted Michael Kramer, president of Manfra, Tordella & Brookes, an authorized purchaser of U.S. Mint bullion products.
"People always want the brand-new coins. So, January sales are always pretty good," said Kramer.
The two most recent January's are the only times the American Silver Eagle has topped six million in monthly sales. The next two nearest months were in the four million area. Monthly levels have been hitting three million fairly consistently since 2010, but before then they had been lucky to breach two million.
Top 10 Monthly Sales for American Silver Eagle
| | | |
| --- | --- | --- |
| Rank | Month | Monthly Sales Total |
| 1 | January 2011 | 6,422,000 |
| 2 | January 2012 | 6,107,000 |
| 3 | September 2011 | 4,460,500 |
| 4 | November 2010 | 4,260,000 |
| 5 | December 1986 | 3,696,000 |
| 6 | August 2011 | 3,679,500 |
| 7 | May 2011 | 3,653,500 |
| 8 | May 2010 | 3,636,500 |
| 9 | January 2010 | 3,592,500 |
| 10 | June 2011 | 3,402,000 |
Two types of Silver Eagles were sold by the U.S. Mint last month — the bullion American Silver Eagle intended for investors and the uncirculated American Silver Eagle produced for coin collectors (the U.S. Mint sold out of the collectible proof Eagle in November). Major differences between the versions are the finish and mint mark. U.S. Mint bullion coin products lack a special finish and a mint mark. Collector coins have either a proof or uncirculated finish and bear a mint mark indicating where they were produced.
In other bullion coin news, sales of 22-karat American Gold Eagles totaled 127,000 ounces last month. That was the most since 133,500 ounces were ordered in January 2011. In number of American Gold Eagles sold, 84,500 were one ounce coins, 49,000 were half ounce coins, 38,000 were quarter ounce coins and 85,000 were tenth ounce coins. Combined across all sizes, 256,500 were claimed which is the most since June 2010.
Rounding out gold bullion, the 24-karat American Gold Buffalo hit 13,500 ounces. That was down significantly from the 21,000 ounces sold in December, but higher than the three months previous of September, October and November. The 2012-dated versions are expected to be released in March.
Last month the U.S. Mint also registered America the Beautiful 5 Ounce Silver Bullion Coin sales of 5,700.