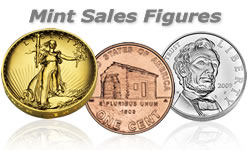 Dominating American Silver Eagle sales reach 630,000 in less than two August weeks. 2009 Lincoln Rail Splitter Cents make their final push over the 300,000 barrier. And UHR $20 Double Eagle Gold Coins swing toward 78,000.
Impressive? Certainly. But so are 2009 Proof Sets numbers. The 18-coin clad set jumped another 21,006 to hit 936,674. The million mark looks to be a few short weeks away. Silver proof sets rose 20,716 to settle at 406,455.
In other related news this week, Lincoln Formative Years penny rolls sold out. The latest two-roll set tally is 300,246, which will be close to the final sales figure for the second 2009 penny. The US Mint timed the sell out as the third 2009 cent, the Lincoln Professional Life penny, takes center stage Thursday. The coin is ceremoniously launched and two-roll sets go on sale. Collectors will anxiously await next week's figures.
Read the rest of this numismatic news article »
{ 0 comments }